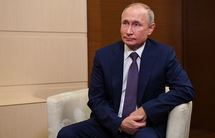 When Putin coughs? Everyone panics and Putin looks at them like they are…….
MOSCOW, November 18. /TASS/. Russian President Vladimir Putin's health is perfectly fine, Kremlin Spokesman Dmitry Peskov told TASS Wednesday. "Absolutely fine," he said when asked about the leader's health. Earlier on Wednesday, Putin held a meeting with government members and coughed a few times. The president apologized and continued the meeting almost without pausing.
Source: Putin's health 'absolutely fine' — Kremlin – Society & Culture – TASS
~~ Okay now that crises has past and we even made sure one of the largest news agencies in the world posted it. ITAR-TASS has comforted me in knowing that Putin coughed and survived!
So Far… ~~
WtR