​​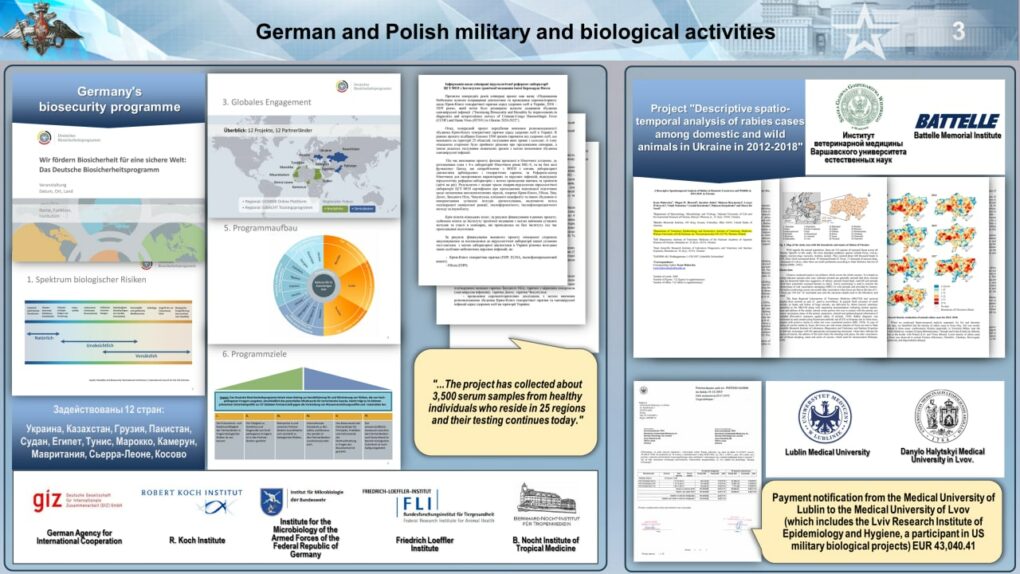 🇺🇦🇺🇸 Not only the US, but also a number of its NATO allies are implementing their military-biological projects in Ukraine.
▫️The German government has decided to launch a national biosafety programme independent of Washington, D.C., starting in 2013. Twelve countries, including Ukraine, are involved in the Programme.
▫️On the German side, the programme involves the Institute for Armed Forces Microbiology (Munich), the Robert Koch Institute (Berlin), the Loeffler Institute (Greifswald) and the Nocht Institute for Tropical Medicine (Hamburg).
▫️New documents reveal that between 2016 and 2019 alone, three and a half thousand blood serum samples of citizens living in 25 regions of Ukraine were taken by military epidemiologists from the Bundeswehr Microbiology Institute.
▫️The involvement of institutions subordinate to the Bundeswehr confirms the military orientation of biological research carried out in Ukrainian laboratories and raises questions about the goals pursued by the German armed forces in collecting biomaterials of Ukrainian citizens.
▫️The documents obtained also show the involvement of Poland in Ukrainian biolaboratories. The participation of the Polish Institute of Veterinary Medicine in research aimed at assessing the epidemiological threats and spread of the rabies virus in Ukraine has been confirmed. Characteristically, the research in question was carried out jointly with the US-based Battelle Institute, a key contractor for the Pentagon.
▫️In addition, Polish funding for the Lvov Medical University, which includes a member of US military biology projects, the Institute of Epidemiology and Hygiene, has been documented. The organisation has been running a retraining programme for specialists with experience of working with dual-use materials and technologies since 2002.
Briefing on the results of the analysis of documents related to the military biological activities of the United States on the territory of Ukraine May 11, 2022…
@mod_russia_en
WtR