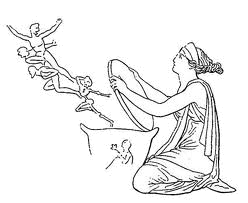 America has forced the lid off "Pandora's Jar" and I am not sure that this time, America can put the lid on…
This is the thinking's this morning over a great cup of Russian coffee as Tehran announced that it is ready to receive payment for oil supplies in gold as well as the national currencies of importer countries. Other words if you don't want to pay with dollars then use your own currency. Tehran also is bartering with goods…
The East has seen the writing on the wall and I understand that even many Western countries are having some backroom sessions of discussion about the future of the dollar, out of the US ear shot…
You have to understand that Iran has been pushed into a corner and when, "The going gets tough, the tough get going!" Iran is no stranger to bull-crap from the West. The West did this because Iran was happy as a Meadow Lark to use dollars as was the rest of thee world… (Understand I said, was!)
The situation has developed to a point that it is obvious why the West is trying to destroy Iran. It has nothing to do with nuclear weapons or threats to Israel, because first off Iran has no "BOMB" and Iran threatens Israel much much less than Israel threatens Iran. In fact it has become a daily thing in the Western world to threaten Iran and all Iran wants is to be left alone to live a life of peace…
If for some stupid ignorant reason, Israel or America would attack Iran, then at that point it is a matter of when – not if – that we would have a world war. Russia and China have made it clear that Syria and Iran are where the line is being drawn. Why even Pakistan has drawn a muddy line in support of Iran and Pakistan is also a nuclear power…
What I see though is an America that really does not care. No America does not care! The people have this blind obsession that we must support Israel at all cost. This extends into the government twenty fold over the normal populace. Israel is calling the shots and if Israel attacks Iran, then America has no choice but to join in and at that point Russia and China have no choice but to join in and then guess what? We have what we call in America – "Russian Roulette"…
So by America forcing Iran to develop on a world scale a bartering, multi-currency society that will be gold/commodity based financial system to survive. Then America has no one but herself to blame as other countries follow suit, as they understand that they have to leave behind the 1000lb gorilla sitting in the room trying to monopolize the worlds issues and products…
But of course the Western world media says, "Iran is suffering and her people are starving because of our great and powerful sanctions to stop the evil killers known as Iranians! This is what they deserve, the media says!" Do you see that 1000lb gorilla beating his chest in all his glory while he tells you how tough he is? Since when do we spread joy at the ability of sanctions to hurt the population of a country?
The "Pandora's Jar" has been opened by America against America and this time a war attempt to close it, will be called WWIII…
I for one think that it is time that America bites the bullet and stops trying to be the bullying gorilla in the room and join the rest of the world in a peaceful and harmonious attempt at life. The lid of the jar is off and you can't put back the contents without all hell breaking loose. America had a good thing going and as always the will of a few override the will of the masses. All countries should be able to use whatever currencies that they feel like, to buy what ever they want to and if they want to trade a bushel of wheat for a bushel of apples then that is what they should do…
There are reasons why we have old fables, as the story of "Pandora's Jar" is an example. We need to remember the lessons from the old and keep them in mind as we progress in life, because things never change, they just keep on changing face and going around…
Like in the story of "Pandora's Jar": We still have hope that the correct thing will be done and the world will be okay!
Kyle Keeton
Windows to Russis!