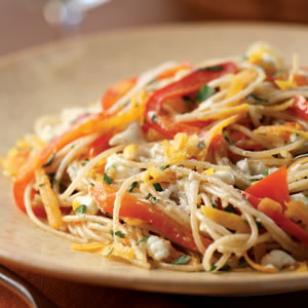 Here is a popular recipe with the Russians. This really hits the spot on a cold winter night and it gives lots of carbohydrates to have energy to burn when the temperature plummets. While it is not a Russian original it is a Russian style favorite and so lets make Pasta with Bell Peppers…
Ingredients:
500 grams of pasta noodles (tagliatelle, spaghetti, linguini or anything that is pasta)
4 bell type peppers of each color (green, red, yellow, orange)
2 to 3 oz of sliced black olives (or green if you prefer)
250 grams feta cheese – chopped
2 cloves or fingers of garlic – chopped
6 fresh sprigs of basil
4 pinches of dried oregano
100 ml 100% pure salad type olive oil
Salt and pepper to taste
Designed for serving 4 people…
Cut the bell peppers into long vertical slices…
Peel and chop the garlic…
Add half of the olive oil to a non stick skillet…
Heat but not fry the bell peppers in the olive oil. Do not turn up heat more than to warm, not fry!
Add the chopped garlic…
Add the oregano…
Stir, without removing from the low heat for 2 minutes, then simmer over very low heat for 20 minutes. You want to mix flavors but maintain a slight crispness to the peppers…
In the meantime boil pasta in boiling salted water (see cooking time on package – 10 to 11 minutes)…
Drain pasta in a colander add back to a pan, stir, add the chopped feta cheese and pour the second half of the olive oil over the pasta…
Stir, sprinkle with salt and pepper plus basil…
Add sliced black olives…
Then I like to try to drain most of the oil from peppers that are simmering, with a slotted spoon and lay them as a topping on the pasta and feta, in your favorite plate or bowl…
Serve immediately with garlic bread or toast…
WtR