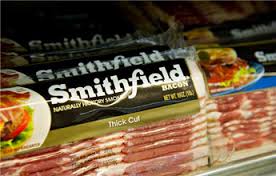 Ractopamine has crushed the US pork industry: I have watched this transaction by China to buy the US company called Smithfield Foods. Smithfield is the largest producer of pork in the world and it should make you do some thinking's as to why the so called largest pork producer in the world needs to be bought and saved by a Chinese company?
Russia was a key player in this whole transaction and when Russia killed the import of American beef, pork and turkey imports owing to the use of the chemical called ractopamine. I understood then that the wind was blowing in a different direction on world food production. I have several articles about food items being shipped out of America and none of them are a good thing, like in a bad thing. The battle over illegal food substances is a world problem and as usual the US is in the front of the word, "Bad!"
Ractopamine, Russia and China work together:
Smithfield went under when Russia, literally its biggest buyer of ractopamine laced pork said, "No more meat until you give proof that ractopamine is not used in the production of that meat…"
At the same time and not expounded upon very much in the press,
"China's General Administration of Quality Supervision, Inspection and Quarantine told US agencies in Beijing that exporters had to provide additional documents to certify the US pork is ractopamine-free…"
Oops! And I am sure that those documents were provided as fast as possible? (No? Seriously?)
China was going to block imports of pork also and then when Smithfield who went way over their head in debt, because Russia quit buying that non-certified pork and other meat products and Smithfield could not produce legit guarantees that the chemical was not in the meat. The scenery unfolds as you see it today…
China has many reasons to do this and some of those reasons are – Food demands, control of markets, dumping dollars and resource allocations. Russia had good reasons to go along with this undermining, in the fact that they are developing their own hog market and it is now self sufficient to supply the Russian people with pork. Like Chickens, Pork no longer needs to be imported to Russia. Soon beef will follow that pattern…
It is a classic "give enough rope and hang yourself" deal and that translates into a China who is flush with funny monopoly American money and looking for a place to spend it; Why not at the funny money home?
A parting thinking: "The USA has shot itself in the foot over GMO foods, antibiotic laced foods, ractopamine laced foods and Monsantosizing the country. Just take the latest wheat fiasco – Rope + Time = Hung!"
Post by Kyle Keeton
Windows to Russia…
The copy scores 57.7 in the Flesch Reading Ease test, which is considered fairly difficult to read.