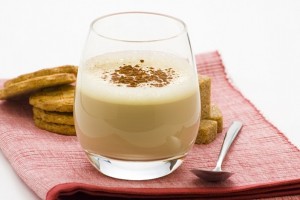 Someone told me that this drink is called a "Poor Man's Drink" because of the small number and easily obtained ingredients that are required. I have said that eggs are plentiful in Russia in past recipes and as is sugar, flour dark bread, butter and other items used here. It also is high in protein and calories which makes it a great food for the long winters in Russia…
In fact the name is famous in Russia and they even have a fantastic restaurant named after this combinations of words. Gogol-Mogol. The recipes are plentiful and the reasons for the recipes are just as prevalent. I think it all boils down to availability of ingredients and the ease of production. Even children make these recipes all the time…
How about a story?
A legend says that once upon a time there lived a man by the name of Gogel. He sang in a band in a village of Mogol. A village that is located in Russia. One day Gogel caught a sickness like a cold, in his throat and his beautiful voice was silenced and he lost his job as a singer. Whatever he tried to do to recover his voice, nothing helped. Then an old remedy of folklore was given to him by friends. It was made up of raw eggs and at the time wine. Gogel seeing a good thing also mixed the eggs with sugar to allow it to swallow better and his voice got better right away. The remedy helped and Gogel proclaimed it a miracle cure for the common cold. It got the name Gogol-Mogol…
So no matter what the reason you make Gogol-Mogol, you can be rest assured that you are not alone in having it and that it will make you health, wealthy and wise. Just as Gogol was…
Lets make a Gogol-Mogol – here are two separate recipes to use and as you see there is many variations…
Ingredients as a non-sweet drink/solid:
3-6 fresh eggs
2-4 pieces of black bread
1 pinch each of salt and pepper

Method:
Wash the eggs thoroughly. Break the eggs into a bowl. Wire whisk vigorously until almost foamy. Add salt and pepper then mix again, until it is foamy. Pour in a tall glass with a  long spoon, with crumbled chunks of black bread dropped into the foamy egg mix. Eat with the spoon and add bread as necessary until all gone…
Or:
This is how some Russians make it as a sweet drink:
In a bowl beat two raw eggs with a tablespoon full of honey. Mix vigorously until it' is foamy, with a wire whip. In a sauce pan heat half cup of milk with a tablespoon of real butter. Butter should melt completely. Milk should be very hot, but not scorched. Pour hot milk and melted butter into a large cup with the whipped foamy egg and honey. Stir quickly to mix well as you mix the ingredients in the cup…

Drink, while it is hot, by sips. You'll feel the cure spreading inside you at a vigorous pace. Go to bed and in the morning you'll feel much better…
No matter how you make it and for what reason that you make it. Gogol-Mogol is considered good for you and healthy…
I know raw eggs?
Well real eggnog is made of the same…
WtR