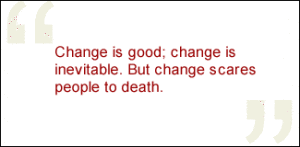 I am finding it interesting that the world is sitting back and watching America implode. No one is really happy about it, but no one can do anything about it either. It is kind of like a person getting ready to commit suicide on a bridge. The bridge is high above the canyon and the tiny river below is pretty shallow. You will hit like a rock and explode like a ripe watermelon…
Is it that Change is that scary?
You are screaming, "I will jump! I will jump! I mean it!" as you hang on by one little finger to the guard rail…
In this particular case the world who has been trying to talk the suicide country down from the bridge and get things under control has really very few options and tricks to save this country. All that can be done is too watch and wait. Does the country have enough gumption to get her act together or will she just finally plunge into the tiny stream below and whats left will wash out to the sea?
The world shakes her head and thinks, "How can a country that has spouted for years about her greatness and importance, find herself in this predicament?"
Oh do not get me wrong the world has a whole bunch of problems and we all have lots of room to spare, when it comes to toeing the line and becoming good countries and people, but after the last years since the fall of the Soviet Union. America has "Tooted Her Horn" like she is "The Cat's Meow!" and this has caused a few countries that just may have tried harder to help more, but they don't see the need to help a braggart and a hater…
Little side note on world problems: Why look at Japan and you will see a country that is doing much worse than America. Worse debt and they have a melted down reactor (maybe two reactors) burning a hole to the center of the earth and we in the west accept that with open arms. Heaven forbid if Russia had a melt down like that. We never would hear the end of it out of the western news. That is what I mean about change and growing up to work with the whole world and not just part of that world. The part we care about. The whole world is one world and we need to work together to save this one world we have…
It is a good and bad world and many countries have extended olive leaves to the USA and had the US slap them up aside the head with those branches. Why even Iran extends the peace branch, even after it has been abused so many times by the US administration…
So we are watching and I am watching as an American from the outside. Here in Russia the people are curious and quiet about what is happening in America. They in Russia have enough problems without a country like America playing games and trying to undermine the Kremlin, all the while Washington DC is crumbling like a house of cards in a wind storm. This kind of actions against countries like Russia, does not create goodwill toward men and all that fancy stuff…
I have had six heart attacks, I had a total of six stents and I am still alive. I have the ability, after going through this to see others having that issue and in this case, even a country like America. It is real obvious that the US government has clogged arteries and has definitely had several heart attacks. We need to get the US on nitro quick or she will cease to function in an appropriate manner before long. Like me, the USA can keep going and she can still be tough and strong. It is just that we have to understand our limitations and make sure we take our "Plavix" if required to keep the arteries flowing…
Nothing in this world is forever, we all grow old and we all grow weak. I have learned the hard way and I see that America is learning the hard way, but can it change?
I made changes and adapted my life and style to something different. It does not matter if it was the best choice or way to do it. It does matter though that I accepted my limitations and did what had to be done to survive…
Can we do what needs to be done to survive or are we going to march off the cliff spouting that, "We are number 1! We are number 1! We are number 1!"
The last step is a long ways to the bottom and it hurts when you hit. I know…
We need the world right now much more than it needs us and we need to change, before we go much farther…
Posted by Kyle Keeton
Windows to Russia…