Update:
"A professional doesn't need a hammer – a professional needs a scalpel," a military officer in the video declares. "This is not just another aircraft of the fifth generation – this is the Checkmate."
Source: 'Checkmate': Russia unveils new warplane… with no pilot — RT
Hmm…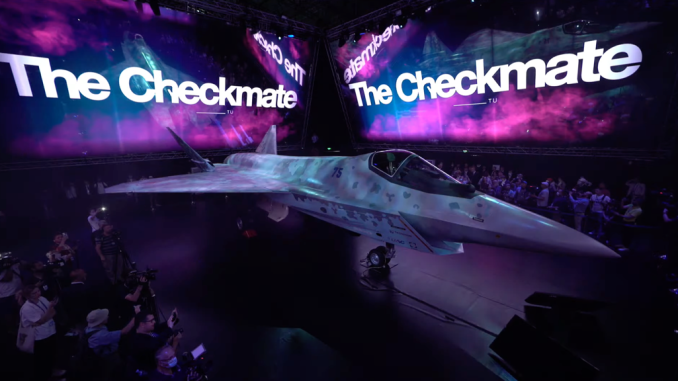 DUBAI, November 14. /TASS/. The Checkmate one-engine fighter jet will received a modified AL-41F1 engine (Izdelie 117), Mikhail Nikitushkin, designer of Sukhoi Co (incorporated into the United Aircraft Corporation, or UAC, which is part of the Rostec state corporation), said on Sunday."The engine is the existing 117 modified for a one-engine plane in terms of reliability," he said. The United Aircraft Corporation presented a new light tactical fighter jet named Checkmate at the MAKS 2021 airshow…

Source: Russia's Checkmate fighter jet to have modified AL-41F1 engine – Military & Defense – TASS
Now talk about a name to stir the masses and a name that has big boots to live up to!
Not "Check" but "Checkmate" as in "Game Over"… 😉
WtR