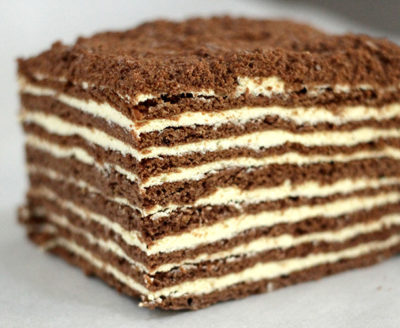 Ingredients:

Cake:
2 eggs
1/2 cup sugar
Chocolate semi sweet
1 teaspoon baking soda
2 tablespoon real honey
100 g butter
2 cups shifted flour

For the Filling/Coating:
650 g sour cream
1⁄2 cup sugar
2 tablespoon real honey
350 g crushed plain sweet cookie crumbs, for the coating
1/4 cup ground walnuts, for the coating (almonds are great, sunflower seeds, whatever)
Preheat oven to 180°C. (important)
Beat eggs well with sugar; add baking soda and warmed honey…
Melt the butter and chocolate in a clay oven proof pot (Why? just use a sauce pan!); add to the mixture in # 1 above…
Put the pot/pan on a very low heat, add the flour while mixing and mix until the mass is without lumps (the mixture will be very thick and very hard to stir)… (too thin add more flour and mix well.)
Remove from heat and cool in the pot/pan…
Once cool enough; grab the dough and drop on a floured surface, divide into balls, roll each layer very thin (2mm), cut circles as round as possible (approx 20cm diameter), and bake on sheet pan (wax paper good idea) at 180°C for about 3 minutes or until golden brown in color; repeat with remaining dough and allow circles of dough to cool before assembling…
Next grab a bowl; Beat sour cream, sugar and honey until the sugar dissolves-the mixture will still be fairly liquid…
Now put it together; Coat each layer (first disc nothing underneath,) with a generous layer of cream; assemble the cake, coat the sides with cream and sprinkle top and sides with crumbs and ground walnuts…. Gummy bears, raisins, colored sprinkles, other words use your imagination. Fruit works good also…
Allow to set at least 6 hours before eating.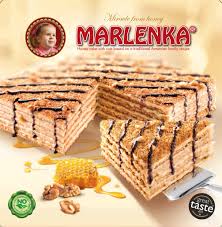 Oh Momachka it is so good and will make a diabetic scream it is so sweet… (Yes I am diabetic!)
For those who are too scared, worn out, no time to cook and or bake. Just buy it… –>
You can find these cakes in literally every store and even kiosks at the side of the road…
Well that is in Russia, I should say…
WtR