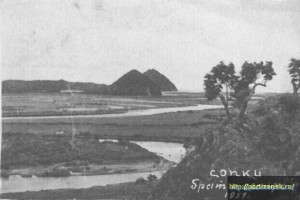 Nakhodka is one of the biggest ports in Far East of Russia. It is considered very beautiful and worthy of a tourist attraction by location and people alone, but there is a special attraction that most people do not know about…
Two hills which look like pyramids are located in the valley near the river Partizanskay. The pyramids are named Sestra (Sister) and Brat (Brother).
Brat use to be the same height as Sestra, the height of Sestra is 319 meters, they have 3 sides just like the sides of a Egyptian pyramid. These pyramids are located at mouth of Partizanka's river. It's very interesting and beautiful place!
The pyramid named Brat is located 2 miles NNE from Sestra, but Brat has a very sad history. In the 1960's the peak of the pyramid was blown up for building stones? I suspect that after reading more about the pyramids, that it was done out of looking for treasures. The usage of the stones was just a by product and cover up…
Brat is now 242 meters tall and before the senseless destruction, 320 meters…
Nearby is a village called Sestra: A very ancient town with tombs that are beautifully adorned. Famous Russian traveler, historian and anthropologist Arceniev in the beginning of XX century, wrote that those hills had been holy places for ancient settlements, people had been coming from China and Korea to pray there for centuries. The two pyramids were sacred and mysterious for many ancient people. They were named Da-nai-shan (now: Sestra) and Er-nai-shan (now: Brat)…
Then there is even recorded documents that 110 years ago when the first Russians disembarked near the Sestra/Korean settlements, it was said that two hills (Brat and Sestra) had been built a long time before. However they didn't know who had build them…

Then and now, all people who visit the pyramids, say that they feel very happy and very healthy while walking on the sides and around the pyramids. The sides of those pyramids are oriented North, West, South and East exactly like the pyramids in Egypt…
I found these pyramids, as I have been looking at the internet about the pyramids all over the world. It seems that in the ancient times that people all over the world and I mean all over the world, built pyramids. They seemed to build the same type of pyramids and no one was connected by any means, due to the geographical barriers in the natural world. Yet we all built pyramids…
I thought you would find it interesting that Russia has pyramids, kinda like Egypt does… 🙂
Kyle Keeton
Windows to Russia…