Russians love hot tea. If they are like my Sweetpea, she has to have a treat to go with the tea. If you go to a Russians home, they will set out tea and a plate of biscuits as they call them. A babushka will most likely have these round powdered sugar delights waiting for the guest to come. They are perfect for that hot drink, for they are a very dry cookie and made for hot tea and catching up on all the latest news…
Russian Tea Cakes: also called Russian Biscuits…
Ingredients:
1 cup butter, softened at room temperature first…
1/2 cup sifted powdered sugar…
1 tsp real vanilla and or fake if that is all you have…
2-1/4 cup sifted flour…
1/4 tsp salt…
3/4 cup finely chopped walnuts, almost powdered. Or your favorite nut (don't use any salted ones – you want plain, raw nuts. Peanuts are great for this.)
(Also enough additional powdered sugar to roll cookies in after baking…)
Lets make:
1. Preheat oven to 400 degrees.
2. Thoroughly mix the butter, sugar and vanilla. (Normal way is by hand, but you can use a mixer.)
3. Gradually mix in the flour, salt and nuts; blend just until enough to dough holds together…
4. Shape by rolling between hands into 1 inch balls…
5. Place on very lightly (very lightly), greased cookie sheet. Pam spray works and or cooking paper dry is the best…
6. Bake 10-12 minutes or until set, but not brown…
7. Remove and let cool so that you can handle them, but still warm…
8. While still warm, roll in a bowl of confectioner's sugar to coat thoroughly. Warmth helps the sugar to stick…
9. Place on clean tray to cool completely, then roll in sugar again. They should be pure white now…
---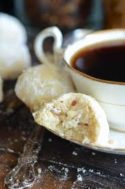 Stop! Don't eat one yet….boil that pot of water. Grab your favorite tea and or coffee and sit on the front porch, at favorite window and or favorite reading chair and sip your tea and nibble at your cookies…
Remember they also are perfect for that guest that loves to gossip…
You know you have succeeded when you see powdered sugar lip marks on your cup edge… 😉
WtR