America is a Liberal Haven…
I use to think that America was divided at about 70% liberalized and 20% conservative and around 10% just lost in the ozone. I realize that the spread is about 40% liberalized and 40% conservatives and 20% in the ozone of life crowd forever to be…
I was wrong at the split and for the last few days I have been thinking about how I missed the ration by so much. I do apologize, for I felt it was a lost cause. I still think it is lost, I can see that I was far from alone…
Silence may be Golden, but it also condones actions of others. The act of taking it and bearing with the crap is actually sometimes good and sometimes bad. You have to weigh and measure the opponent and adjust accordingly. Silence in the case with liberals is a very wrong thing to do…
If you look at what is happening and see that America is much more divided than even I thought. To be honest; I thought with the exception of just a small percent. America was a loony bin of liberal haven…
Don't get me wrong, it is a liberal haven. I just did not realize that we still have a lot of people in America that have kept their mouth shut…
Big mistake…
The sides are out in the open now and we have Trump to thank for that. It took someone with a disdain against political correctness and other silly crap such as that to enable the conservative side to start expressing itself…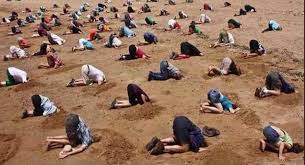 I see that half the country of the US has realized that a liberal mindset has taken over our news, schools, politics and literally everything that can push their agenda onto the rest of us…
Once again; You can not put your head in the sand and expect it all to blow over! Your ass is exposed, when you do that… Think about that statement a second and let your mind image, how stupid that is…
* * * * *
I grew up with school teachers. My parents were a mixed mess. My dad was a conservative who had to accept liberal ideas or get fired and my mother was a liberal who embraced such games as a perfect life…
I grew up watching the spread of liberalism within our school system. The problem is not liberalism, but the issue is that liberals will use anything and everything to support their agenda. They also are very sheepish and will follow blindly those that take the reins. They also are very vocal and very very emotional. Emotional to the point of psychotropic in their actions many times…
We all realize now that this mindset has infiltrated Hollywood, politics, our justice system and our everyday life. Through this infiltration we have lost much freedom, liberty and justice for all…
* * * * *
Can it change?
Yes it can, but we must get our heads out of the sand and look around us. Liberalism is not all bad and conservatism is not all good. Therefore, if we can find that happy medium, then we will flourish again. But as in every but, the sides have been drawn and division is on full steam ahead. A division that could destroy America and that my friend is what the plan is. A divided country is a easily controlled country…
I guess if I have to sway one way of the other, conservatism is the way I must land. I prefer a balance, but this last election has made it clear, liberalism has become a disease, a virus destroying the traditions of our American life…
I knew that when I saw these last few years the attack upon something as simple as the Confederate Flag in America, that the agenda was being shoved down our throats and if we accept such issues as normal, then we truly have lost and become sheepish ourselves…
We can change and get back a balance, but we must meet the issue head on now! Not tomorrow or the next day, but NOW!
I am tired of seeing movies, TV shows, award programs and many other media expressions, being used to promote an agenda that does not lay anything, but on a one way street. Our way or the highway is a very real liberal mindset and this last presidential election showed that…
It can change!
* * * * *
Russia is very conservative…
And I realize that is why I meld so well into its society. I am comfortable in Russia, whereas in America, I found myself an outsider with no support from other conservatives. I was arrested for my beliefs and silence was golden to those who should have stood with me…
I believe in small government, handshakes, traditional values, free enterprise, private business and people being let to be people…
But, I do like change, if change is for the better and I do like to grow and develop, in all aspects of my life. That means we allow people to be who they are and we allow businesses to flourish even the bad ones and even when bad things happen…
Russia is as I have said before. Just like America was many years ago and I love to see entrepreneurs trying to make it. The entrepreneurs that screw up, are run out of town quickly…
I am a believer in Lemonade Stands and the freedom to open one up anywhere I chose. then if I pick the wrong spot, you are free to tell me that very thing. But nether of us should be stifled in those thinking's and thoughts and both of us should be civil about things…
Never should governments interfere in our processes…. Society will regulate me and you…
Yes I know! So many could not fathom life without a governmental service. A government to tell us when to be good and when to be bad. We want to be told that raw milk is bad, we want to be told who to vote for, we want to be told to put on a seat belt, etc etc etc…
If you do not want all that?
Then why are we silent about our rights, freedoms and liberty being destroyed by others, within our midst…
I see no solution to the issue at hand…. I am going to walk the dog and enjoy life. For life is…
"We are what we pretend to be, so we must be careful about what we pretend to be."
― Kurt Vonnegut
Humans on our planet earth are the greatest actors there are. No other creature on earth has a problem with letting life be what life is. But we pretend that we are something we are not and thus, we have become what we dread the most…
WtR