I woke up twenty times last night coughing and gagging. It seems that this never ending deep smoke is taking a toll on me.
Last night I went to the kitchen and when I turned on the lights I could see the smoke rolling in the air. I went a few minutes ago and took this picture from the 12th floor. It is a new building and a construction crane… —->
That is how it looks everywhere you stare today…
I am not sure what it is but something in the smoke is making me very sick. I think that it is a combination of the medicines that I take and the toxic peat smoke. Sveta bless her heart is still doing great and she just plucks along…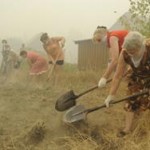 The fires are being said to approaching Moscow very close now and in fact it said this year "23,900 fires have been registered in all of Russia.  Fires have been burned a total area of more than 744,000 hectares.  (1 hectare is 2½ acres) The last picture is what the villages have to do to protect themselves. There is no fire department to speak of. Just like when I grew up in rural America. A fire can mean the end to everything…
So I am taking it easy today and will most likely not post any more today.
I am not doing well today…
Windows to Russia!