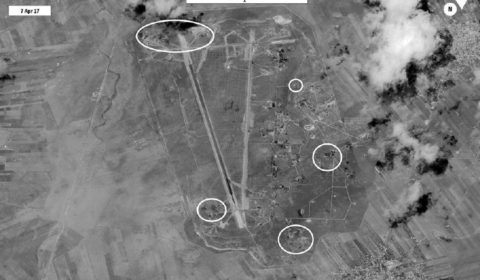 http://www.breitbart.com/big-government/2017/04/06/rex-tillerson-vladimir-putin-did-not-have-advance-notice-of-strikes-in-syria/
US GOV said we warned the Russians and Russia said, "No you did not!"
Guess Russia told the truth…
* * * * *
What we know so far:
U.S. missiles (59 claimed by America) struck Shayrat's airfields, aircraft hangar, and fuel tankers. 23 missiles hit nearby and upon the airbase, the airbase is still in operation…. 36 missiles are missing, as in killed in action… Russia knows and are not talking, but one seems to have landed inert in a garden…
At least 6 fighter jets have been damaged or destroyed. But they were all old Soviet type jets and mainly salvage…
Six military personnel have been killed, some non-Syrian (Russians?)
Yep – Russians were present at the airbase when it was attacked and the rumored are flying about who died…
No WMD – chemicals found at the field…
But MSM in America and Britain said we showed them how tough we are!
When the results and facts are in this will be a thumbs up for Russia and a thumbs down for the U.S. The world is not as dumb as we Americans would like them to be. Do we have any true friends beside Israel and Saudi Arabia? And the lapdog Britain… Ruff Ruff…
But you will never know the truth, for you will be too busy watching "Dancing With The Stars!" and or your favorite reality show, what ever that is…. and the truth will be posted on the back page when it, if it, is ever, posted by the MSM…
WtR