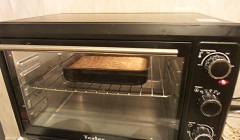 Sometimes Sveta does things that makes no sense to me and yet they do make sense. Does that make sense?
Yesterday, Svetochka brought home four packs of Gingerbread Cookies….now understand that gingerbread cookies are the base for the pie crust of the pumpkin pies I make. But….a pack of gingerbread cookies will make three pies…
So since we do not eat the cookies for any reason other than pumpkin pies and the cookies are available everywhere. I have to shake my head and come to the conclusion that Sveta wants me to make twelve pumpkin pies in the future. Actually eleven, for one will be made very soon as in the present for New Years… 😉
The recipe that I use is this one below…
Yes, Svetochka has given me a big hint, that Pumpkin pies are on the New Year list of foods to make…
Love that girl, she is my sweetie!
WtR