Han Ximin
ximhan@126.com
SHENZHEN officially signed a deal yesterday with Beijing Institute of Technology and Romonosov Moscow State University for the cooperative China-Russia University, which will be built at Universiade New Town in Longgang District.
With the expertise of the two universities combined, the Shenzhen campus will cultivate talent required for cultural, educational and technological exchanges between China and Russia as part of a strategic cooperation plan between the two countries.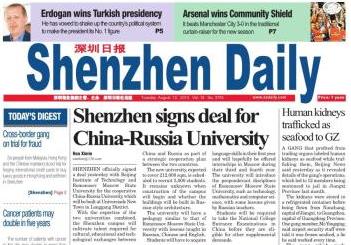 The new university, expected to cover 212,000 sqm, is scheduled to recruit 5,000 students. It remains unknown when construction of the campus will begin and whether the buildings will be built in Russian-style architecture.
The university will have a pedagogy similar to that of Romonosov Moscow State University with lessons taught in Russian, Chinese and English.
Students will have to acquire language skills in their first year and will hopefully be offered internships in Moscow during their third and fourth year. The university will introduce the preponderant disciplines of Romonosov Moscow State University, such as technology, mathematics and computer science, with some lessons given by Russian teachers.
Students will be required to take the National College Entrance Examinations in China before they are eligible for other supplemental demands.
Longgang District is making Universiade New Town a new university center in Shenzhen's east by introducing a number of prestigious international institutions, including joint programs with the University of Melbourne and Harbin Institute of Technology, and a joint school run by the University of Queensland and Jilin University. The Chinese University of Hong Kong (Shenzhen) will open this September.
Romonosov Moscow State University is an internationally acclaimed research university, leading in the natural sciences, social sciences, arts and humanities, and having produced a total of 11 Nobel Prize winners.
Post by Kyle Keeton
Windows to Russia…