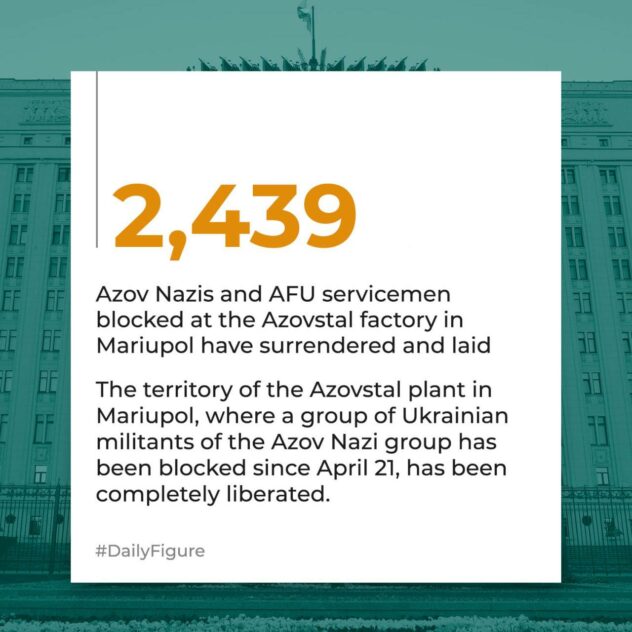 ⚡️The territory of the Azovstal plant in Mariupol, where a group of Ukrainian militants of the Azov Nazi group has been blocked since April 21, has been completely liberated.
▫️The underground facilities of the enterprise, where the militants had been hiding, have come under full control of the Russian Armed Forces.
▫️Since May 16, a total of 2,439 Azov Nazis and AFU servicemen blocked inside the plant have laid down their arms and surrendered during the operation.
▫️Today, the last group of 531 militants surrendered.
▫️The so-called "commander" of the Azov Nazis, due to the hatred of Mariupol residents and the desire of the townspeople to massacre him for his numerous atrocities, was removed from the territory of the plant in a special armoured vehicle.
▫️Russian Defence Minister General of the Army Sergei Shoigu reported to Russian President Vladimir Putin on the completion of the operation and the complete liberation of the plant and Mariupol city from the Ukrainian militants.
🏳️ Footage of the last group of surrendered militants leaving Azovstal's Territory
#MoD  #Russia #Ukraine
@mod_russia_en
#MoD #Russia #Ukraine
@mod_russia_enjoy
WtR