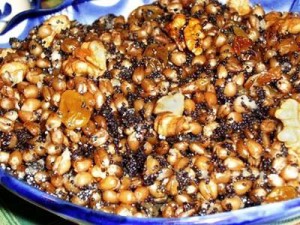 Sochivo is a traditional dish of the Orthodox Christmas Eve. Sochivo is a special vegetable dish made from scalded wheat grains, and sometimes rice or lentils, mixed with seeds (poppy seed, almond or hazelnut), juice,  and honey, which is approved by the Charter of the Orthodox church to be eaten during Christmas Eve. In fact from what I understand Orthodox Christians are required to eat sochivo. Christmas Eve in Russia is the 6th of January…
According to Orthodox Church Charter, eating sochivo partakes in the evening on Christmas eve after complete abstinence (fasting) from food during the day…
Of course like all Russian dishes there is a zillion ways to make this recipe and everyone has a better way than the next one… 🙂
So, Lets make a very special dish for that Russian Christmas Eve…
Ingredients:
16 oz wheat (1 pound)
4 oz honey
6 oz poppy seeds
7 oz walnuts
salt (to taste)
Method:
Filter the whole wheat (other words pull out the chunks of dirt and rocks), wash and put in boiling water. Bring to a boil, drain and wash under cold water, bring to boil, cover tightly and put in the oven until soft. (Or boil for 5 hours in pot.) Then take out and cool down.Put in large mixing bowl… (Idea is that whole wheat is hard to cook and it takes time)
Wash poppy seeds, scald in boiling water then wash under cold water and grind up until homogeneous and white, many people do not do this and leave the poppy seeds whole. Mix into the wheat in the large mixing bowl…
Then add the honey and a bit of salt. Most like to heat the honey so that it is thin and will mix better…
Combine all ingredients with the wheat wheat thoroughly.
If sochivo is too thick, then just add some water. At the end of mixing add chopped walnuts all over the top…
There you go and now you have made a dish that is approved by the Orthodox church to eat on Christmas Eve…
Posted by Kyle Keeton
Windows to Russia…
The copy scores 71.5 in the Flesch Reading Ease test, which is considered fairly easy to read…