We got home safe and sound. Traffic in Moscow really, really, really and did I say Really? Sucks. But we got home. You have to understand, everyone is coming back from the villages and dachas….school time!
Last night the playground at our flats was packed to the gills with screaming monkeys. all let loose at once. 😉
---
Other than that all is good in Moscow. Life is a bowl of cherries and yes there are pits as in everywhere…
The Tiny Russian Village:
Lets start with Vova….he is in love and actually has found someone that really cares for him. I have mentioned her before (Natasha) and she really does like him. So Vova is getting fat, sassy and happy. Love does that and Natasha can cook very good…
But as with all wonderful news, Vova is still fighting with Nina the other full timer in the village. I suspect that one day I will go to the Tiny Russian Village and find these two at the bottom the well dead, having killed each other as they fight over the well issue. They also fight over anything that is available to fight about and they fight over things that make no sense. Yes I should be there and take care of the well, then they would live longer…
Vova and Nina are just too much alike and that is too many in one place….Nina needs a boyfriend?
Father Pavel with the monastery is a happy camper and since Bishop Matt has left for Rome, Italy, he has had to spread himself very thin, but he is happy and that is what counts….it has slowed down the monastery development though….like it stopped! But they did come up and mow the grounds. The last winter Boza and I were at the village, it got so cold. Remember -50 + wind chill? The bees all died. They have not been able to recover from that, so we have no special Monastery Honey this year. Interesting, I had people call me out for lying about the cold as I lived in the Tiny Russian Village….but it was bitterly cold and Boza and I danced along just fine….I miss Boza… 🙁
City people still come to the village on weekends and party to the point of passing out on the sides of the roads. This at least is a safe place to pass out, due to lack of traffic and such. You also have who's boots are under who's bed constantly in the Tiny Russian Village. I watched one married gal who came alone, wonder to several different village homes, several nights for a week and then finally her husband showed up after she made the rounds of the village. Took about a week….then when he showed up they partied two nights almost all night and kept us up….I would rather it was just her and she slinked off every night… 😉
No truck to deliver groceries this year. Not enough people at the village…
We worked on Nicolai's place, he is the one who died recently and after cutting the grass, fixing some fence issues and placing rat poison against those pesky (полевые мыши) field mice. Nice home and it looks like Sveta and I will do the paper work on transferring the ownership of that property. Nicolai's widow, has no desire to ever go back and since Nicolai and I were very good friends, we will be basically given it. The only thing we have to do is deal with the year plus paper work and costs of doing it. This is a long process in Russia, bureaucracy is fun here….We brought a painting back this trip for Larissa his widow, that is about all she wants?
We have an elder lady who comes now just for the summer and she is over 90 years old now. 90 plus and still self sufficient. She plants gardens, digs it herself. Cleans and works her yard and bosses around her younger bother, like a good girl should do!
90 plus years old! If only I could make it that long? I am pushing it now with my genetics and background…
Our yard had white lilac trees growing good, a healthy rose plant, a perfect pine baby pine growing, a survivor new chestnut tree and more apples than you could ever want….we have bags of them right now at our Moscow home. Svetochka could not leave them and I kept finding her getting apples and filling plastic sacks. 😉
Russia has a serious apple crop this year. Apple trees grow wild everywhere in our place in the world and this year apples are abundant… Yummy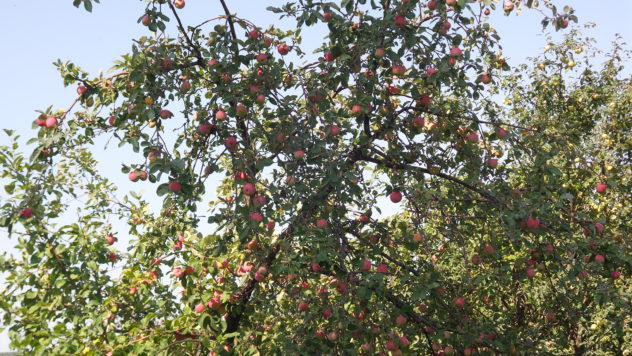 Speaking of crops:
Soybean fields everywhere. Wheat fields everywhere. Sunflower fields everywhere. New fields being opened up. Agriculture has become a serious business in Russia and from what I see Russia is sending unbelievable amounts of soybeans to China. Oops, do not tell anyone I said that! Don't want any disillusionment from the west about what they want to believe…
The Tiny Russian Village has garnered a reprieve in life. The families of the elders, long since gone have finally discovered the village again. The homes are being rebuilt, the yards cleaned and even new places are being built and or enlarging homes. I am very glad to see this, we even had a family from St. Petersburg come down and do lots of work on their old place…
That is what the Tiny Russian Village is about. Getting back to your roots…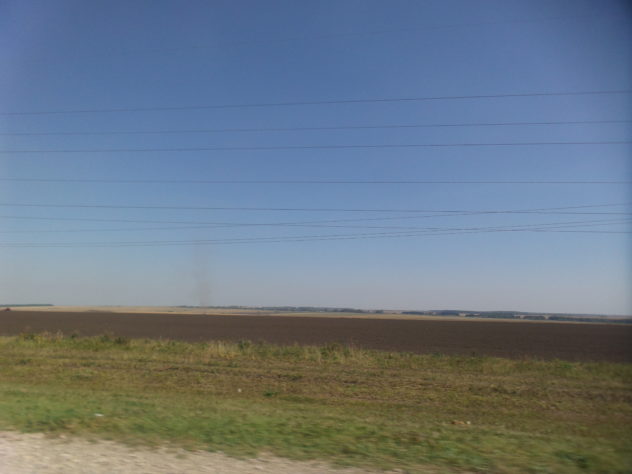 WtR