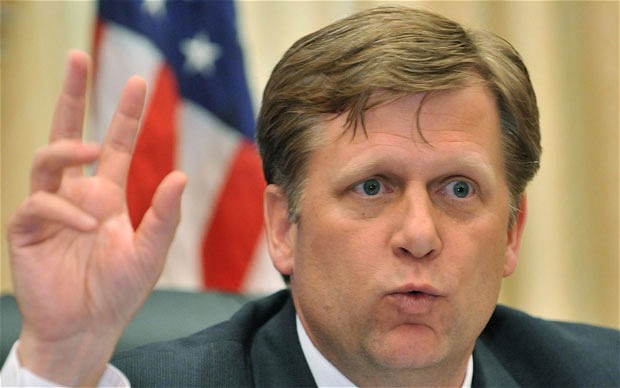 The Russians had this man figured out at the get go and he tried to play the games that the US wanted him to play, but Russia was on him like a "Fly on Stink!"
I have to say that as I pointed out many months ago, "He was wrong for the position!" He had no desire to work properly with Russia and he had no desire to be here in the first place. Russia knew this and Russia immediately went after him. He walked into Russia and showed weakness and a lack of respect and hence he never had a chance…
Lets see what I posted in the past:
Here is something that I wrote awhile back…
The newly-appointed U.S. ambassador to Russia, Michael McFaul came to Russia and instead of going to work and meeting the Kremlin, he immediately called together the Russian opposition and the opposition media and had a meeting. He seemed to have forgotten why he came to Russia! Or did he?

A long time ago I named McFaul, The McFart, because there always was a bad smell in the room when he appeared. It looks like that nickname holds true and this is the person that America sent to Russia, to continue the reset…

Looks more like he was sent to Russia to continue the payoff of the opposition and reignite the games of politics. I know that Russia is on to him and his stink and I really do not think that unless he changes his attitude and tactics that he will last long…

He has a past with Russia that may catch up to him. His ties with Yeltsin have deep roots…
I did not mix words and even try to give McFaul a benefit of the doubt. I knew him from the past and I knew why he was in Russia. He has played games for months here and I really though he was smarter than to come to the enemies territory. He must of had some serious debt to pay back to someone in the States…
Michael McFaul wrote in his Twitter that he will quit the post of US Ambassador to Russia soon after the Sochi Olympics.
I thought Twittering a goodbye, it was a fitting end for McFaul!
Post by Kyle Keeton
Windows to Russia…