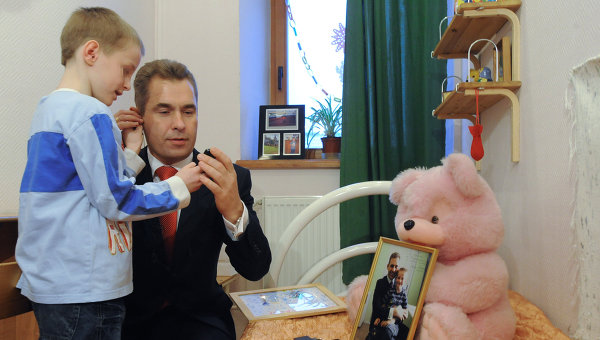 Russian children's rights ombudsman Pavel Astakhov said on Thursday a lawsuit had been filed against him by an American woman who sent her adopted son back to Russia.
Torry Hansen filed a lawsuit in Moscow's Savelovsky Court, seeking retraction of a November 24, 2011 article in the Rossiiskaya Gazeta government daily. She also demands punitive damages.
"The essence of the lawsuit is that I call Hansen an adoptive mother, while she wants me to call her Artyom Savelyev's former adoptive mother," Astakhov said.
"I'm glad a lawsuit was filed by Torry Hansen against me and the Rossiiskaya Gazeta. I'll gladly meet her and request that she visits Russia and the court," he added.
Hansen was living in Tennessee in April 2010 when she put Artyom Savelyev, then 7, on a flight back to his native Russia unaccompanied, with a note saying she did not want him because he was "psychotic."
Astakhov said that the Russian side would seek child support payments from the U.S. woman, according to the March 8 U.S. court ruling.
"We will try to make her pay the cost of Artyom's support, nothing more," he said.
According to the child ombudsman's estimates, the boy's stay in a group home costs 42,000 rubles per month (over $1,400), not including psychological treatment costing 27,000 rubles (over $900) per month.
Update: This is the article that Torry Hanson puts in her lawsuit…
Lucky: Artem Saveliev found a family
The fate of nine-year-old Artem Saveliev, "RG" followed in April 2010, when adopted him from an orphanage, the Partizansk Primorye American Torri Anne Hansen, "disappointed" in the receiver's son ("he was mentally unstable"), presented him with a Russian passport U.S. visa, birth certificate and a note in which the child refused, and requested the Russian authorities to take him back. After that landed the then seven-year-old Artem on a plane to Washington and sent to Moscow .
The scandal erupted on both sides of the ocean. And, as they say, there would be a blessing in disguise. Shocking story of the return of Russian orphans, as they say, aviaparcel, in violation of all moral and legal norms, was the last straw in the cup of patience of the Russian side. Russia, which had up to that criticism to how fate for inter-country adoption of children by Americans and insisted on the necessity of concluding a bilateral agreement with the U.S. on international adoptions, said that if such a document will not be accepted, suspends the process of adoption of Russian orphans by U.S. citizens. America, to the case of Artem Saveliev, who avoided the development and signing of the agreement, acknowledged its necessity. Then, almost immediately, work started on a document, and July 13, 2011 Russian-American agreement was signed on adoption.
As will emerge Artem lives after returning home, worried about so many – both in Russia and in America. On all matters not whether the orphan be returned to the orphanage, the Presidential Commissioner for Children's Rights, Pavel Astakhov, who took the boy under his patronage, replied: "To Artem we find a family in a shelter, he would not return." Ombudsman even had to refute the information that has passed in August last year on the U.S. television channel CNN that Artem Saveliev back to the orphanage Partizansk, where it may be transmitted to the adoption of the new American family: "Despite the fact that the National Council for Adoption United States (NCFA) said Artyom American citizen, hopes to return the child to the United States, and even declares that the boy in America have potential adoptive parents, we will not allow it. Artem Saveliev, above all, a Russian citizen, he will remain in Russia and Here it will be picked up a new family. "
Commissioner for Human Rights of the Child kept his word as it became known, Artem Saveliev for two weeks, as he lives in the family, Children's Village-SOS in the suburban Tomilino (about this unique form of device orphans "RG" is not just telling, see " 700 Friends one village "-" WG "№ 4081 of 01.06.2006," What gave – that is your "-" WG "№ 4253 of 21.12.2006, and other publications). He has five brothers and sisters. The head of the family, Vera Egorova, says that the boy was already on the second day, called her mother. Artem quite pin. Quickly made himself at home, made friends with the brothers and sisters. Academic performance in second graders Saveliev quite decent. However, travel outside the village-SOS, even for some entertainment, it still does not want to. And about half of his life in an American family who did not want him to become a mother, said with great reluctance "about America, I do not recall, here I have another life. I am the luckiest."
Meanwhile
On Monday, the U.S. District Court in Bedfordskom American city Shelbyville (Tennessee) opened preliminary hearings in the case of Torrey Ann Hansen – former usynovitelnitsy Artem Saveliev. The lawsuit filed against the family Hansen adoption agency World association for children and parents (WACAP), more than two years ago helped Torrie Hansen and her mother Nancy adoption Artem. Plaintiffs need to oblige Torrey Anne, under the law are still receiving the child's mother, to pay 27 percent of the salary for the maintenance of the boy, now 9 years old.
Hansen family lawyers insisted that the hearings were closed, citing the interests of the minor. However, the judge rejected the defense motion and ordered the open nature of the meetings with the media and the public.
Assuming that the trial will begin Hansen in March-April 2012.
Source: http://www.rg.ru/2011/11/24/artem-site.html
Kyle Keeton
Windows to Russia!