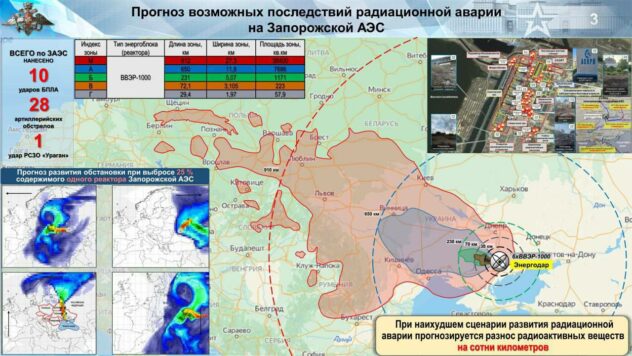 🇺🇦❗️Radioactive substances when Ukraine detonates a "dirty bomb" can cover Poland, and also spread in the atmosphere at a distance of up to 1,500 kilometers, according to the Russian Defense Ministry…
🇷🇺🇬🇧⚡The head of the Russian General Staff Gerasimov had a telephone conversation with the head of the British Defense Staff Reydeikin, continued discussions with the British side of the situation with the possible use of a "dirty bomb" by Ukraine…
🇷🇺⚡The Ministry of Defense of the Russian Federation has put its forces and means on standby in the event of a "dirty nuclear bomb" being detonated in Ukraine.
There is also a threat of a nuclear catastrophe at the Zaporozhye nuclear power plant, which will affect most of Europe…
🇷🇺⚡ The Ministry of Defense of the Russian Federation has information about the Kiev regime planning a provocation related to the detonation of the so-called "dirty bomb" or low-yield nuclear weapons.
The purpose of the provocation is to accuse Russia of using weapons of mass destruction in the Ukrainian theater of operations and thereby launch a powerful anti-Russian campaign in the world aimed at undermining confidence in Moscow.
According to available information, two organizations in Ukraine have specific instructions to create the so-called "dirty bomb". The works are at the final stage.
A "dirty bomb" is a container with radioactive isotopes and an explosive charge. When the charge is detonated, the container is destroyed, and the radioactive substance is sprayed by a shock wave, while creating radioactive contamination of the area over large areas, and can also lead to radiation sickness….
🇷🇺🇺🇦❗Peskov: The threat of Kiev using a "dirty bomb" is real, it's up to the US, UK and France to believe in it or not…
🇷🇺❗The world should not allow Kiev to possess nuclear weapons – Director of the Foreign Intelligence Service Naryshkin…
🇷🇺🇺🇦 Kiev regime uses the same methods of nuclear terror that were once used by the terrorists of Al-Qaeda lead by Osama bin Laden. And Western countries, providing financial and military assistance to the Zelensky regime, become sponsors and accomplices of nuclear terrorism – Volodin…
🇷🇺 The warnings issued by the Russian Defense Ministry and the Russian Foreign Ministry regarding threats of nuclear provocation are obviously aimed at frustrating such plans, just as numerous warnings from these departments made it possible to frustrate at least part of the provocations using chemical weapons in Syria….
📞🇷🇺🇺🇸 On 24 October 2022, the Chief of General Staff of the Russian Armed Forces – First Deputy Minister of Defence of the Russian Federation General of the Army Valery Gerasimov has held telephone talks with the Chairman of the Joint Chiefs of Staff of the U.S. Armed Forces General Mark Milley.
◽️ The parties carried on discussing the situation concerning Ukraine's possible use of a 'dirty bomb'…
@mod_russia_en
WtR