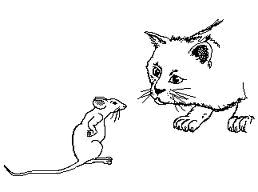 That cup of chicory (coffee) is really good while I play cat and mouse with the DHS. They are the cat and they are trying to eat Windows to Russia the little mouse. They do not appreciate what Windows to Russia has to say and  do not like the fact the Windows to Russia is having freedom of expression in Russia…
Today as in just about everyday! We where crashed by several means! This is instigated by the US government. Today is no exception. Thousands and thousands of hits recorded in a minute, finally brought us down again. We finally got a system reboot and got out from the clutches of the DHS and her abuse. It was an intentional non hidden attack, that flagrantly tells websites that we are the USA government and do not care about the fact that you know it. We do not spoof our IP or anything. We are DHS and do what we want…
The attack came from a slew of IP's in the NetRange of 216.81.80.0 – 216.81.95.255. When my system blocked one then another took its place and when a sufficient bottle neck had been formed the sight crashed. It was a coordinated attack from multiple IP's all owned by the Department of Homeland Security…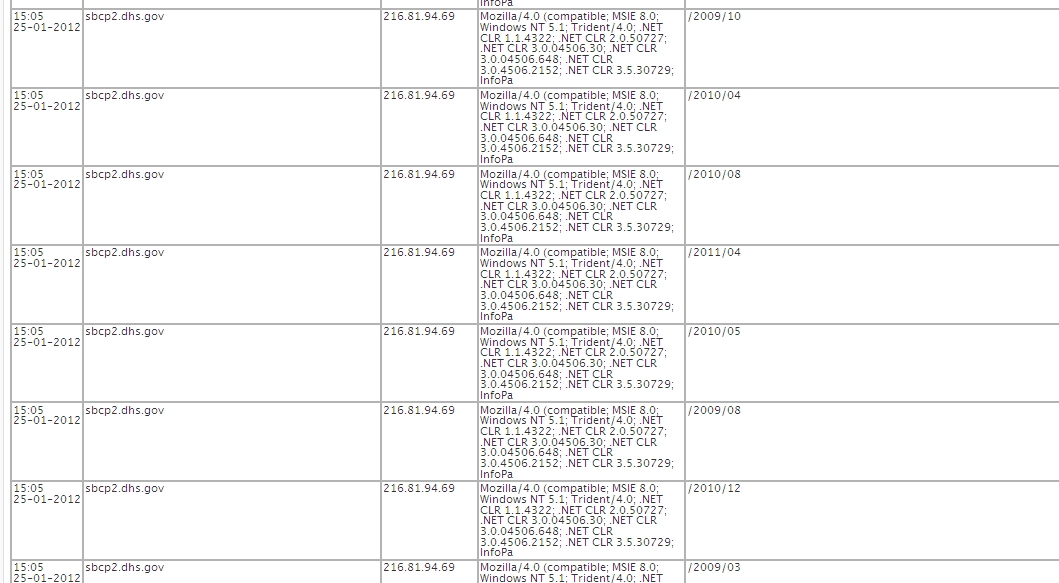 sbcp2.dhs.gov and sbcp3.dhs.gov
216.81.94.69
Mozilla/4.0 (compatible; MSIE 8.0; Windows NT 5.1; Trident/4.0; .NET CLR 1.1.4322; .NET CLR 2.0.50727; .NET CLR 3.0.04506.30; .NET CLR 3.0.04506.648; .NET CLR 3.0.4506.2152; .NET CLR 3.5.30729; InfoPa
traceroute to 216.81.94.69 (216.81.94.69), 20 hops max, 60 byte packets
1 10.169.25.243 (10.169.25.243) 0.114 ms 0.028 ms 0.027 ms
2 be13.429.core-b1.as6724.net (85.214.0.140) 2.389 ms 2.323 ms 2.284 ms
3 be1.core-b2.as6724.net (85.214.0.33) 2.396 ms 2.381 ms 2.369 ms
4 b-ea7.b.de.net.dtag.de (62.157.250.33) 1.007 ms 0.968 ms 0.930 ms
5 217.239.37.106 (217.239.37.106) 98.915 ms 98.918 ms 98.901 ms
6 194.25.211.18 (194.25.211.18) 101.988 ms 102.072 ms 102.047 ms
7 0.ae1.XL4.IAD8.ALTER.NET (152.63.33.122) 99.339 ms 99.405 ms 99.381 ms
8 0.ge-6-3-0.XT2.HOU7.ALTER.NET (152.63.2.170) 154.984 ms 154.965 ms 154.946 ms
9 POS7-0.GW8.HOU7.ALTER.NET (152.63.103.105) 136.868 ms 136.852 ms 136.833 ms
10 dhs-gw.customer.alter.net (157.130.154.238) 337.328 ms 302.083 ms 302.140 ms
At the same time we got hit by:
justbrowsing.nrc.gov, clayton.state.gov, cerberus.tobyhanna.army.mil, femifw02.fe.navy.mil, 198-45-10-130.ihs.gov, gate22-quantico.nmci.usmc.mil, ws085719wss.bliss.army.mil, justice.gov.za, sherman.state.gov, soaancwebproxyb.doa.alaska.gov, bluecoat.leavenworth.army.mil, tsa2-wan.fnal.gov…
There was a hundred more…
Now lets look at something interesting:

Just study the picture and you will see an interesting trace route…
So this is just a little sample of what it is about to be a website under gov. attack. The problem is that I am not radical. I just tell some real truths and some people in the world do not want these truths to get out…
Just like the real truth that the US gov. hates the internet and free speech that comes with it! That should scare you unless you make sock monkeys and embroider all the time on a website…
It is okay one day we will be all cut off from each other again and no world communication except snail mail…
Kyle Keeton
Windows to Russia!