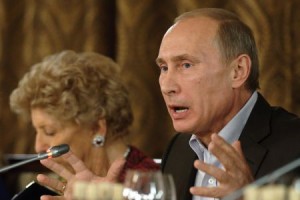 The Russian president, Vladimir Putin, issued a blunt warning to the west tonight not to arm Syrian rebels who "eat the organs" of their enemies.
Following talks in Downing Street with David Cameron, he said the brutal behavior of the rebels was inconsistent with the "humanitarian and cultural values" of Europe. While he strongly defended the supply of arms by Moscow to the "legitimate" government of the Syrian president, Bashar Assad, he stressed that he wanted to achieve a diplomatic solution to the crisis.
He believed the G8 summit, starting on Monday in Lough Erne in Northern Ireland, was "one of the most appropriate means" to seek an end to the conflict.
At a joint news conference, Cameron acknowledged there were big differences between them on who was to blame for the conflict but insisted they could be overcome.
Vladimir Putin, who has made no secret of his opposition to US president Barack Obama's plans to send arms to the rebels, was unsparing when he was asked about previous comments by Cameron that those who armed the regime had "the blood of the children of Syria" on their hands.
"The blood is on the hands of both parties. There is always a question as to who is to blame for that. One should hardly back those who kill their enemies and eat their organs," he said, referring to an incident when a rebel fighter was filmed taking a bite out of an organ he had cut out of the body of a dead Syrian soldier.
"It is hardly in relation to the humanitarian and cultural values Europe has been professing for centuries."
Putin has also reacted sceptically to evidence produced by Britain, France and the US that the regime has used chemical weapons – crossing Obama's "red line" for intervention.
Vladimir Putin has just made a red line in the sand…
This could get real bad, Putin does not bluff…
Post by Kyle Keeton
Windows to Russia…
The copy scores 48.7 in the Flesch Reading Ease test, which is considered difficult to read…