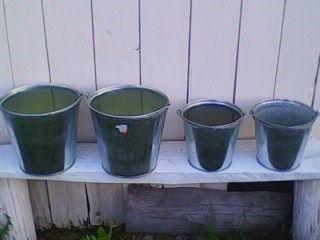 The other day at the store, I got grouchy and looked for bigger buckets to carry water with. I found them and now it takes only two buckets or one trip to wash the clothes and one trip to get water to rinse the clothes. Before, it took twice that in trips to the well. makes a happier bear to say the least…
Therefore, those are my big water buckets, you can have the normal size ones…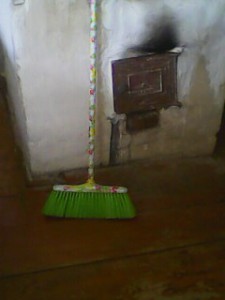 Then yesterday I said I bought a broom, a girly broom to be exact and that was the only broom I could find. It works good…
What! You ask why that was the only broom I could find?
Well because most Russians make their brooms from tree saplings and sweep with that. I have cut down and destroyed all my sweeper saplings (That is my excuse and I am sticking to it!), so I had to buy a broom. So I bought a pretty broom and swept the house with it…

Otherwise I could make one of these…
Then taking Boza for a walk is always interesting. Here is an image of what Boza does best as we walk. He simply lays around on all the roads that we walk on. It gets interesting for he just lays there as I walk past and does not move until I am way ahead, then he gets up and runs like the wind to catch me and pass me by. Then he gets way ahead of me and lays down to sleep. Sorta like the turtle and the hare story. Except Boza wins all the time… 🙂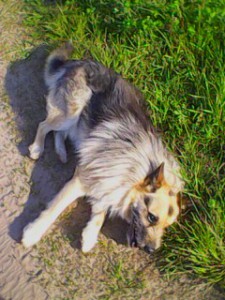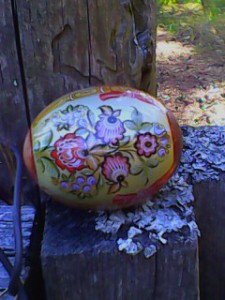 After I left Boza snoozing in the byway, I went to the cemetery and found at the gate a left over Easter Egg. The Russian Easter Eggs are beautifully done and many are left at cemeteries for the dead ones. Plus there is drinks, bread, foods, water and many other items left for the deceased…
Then Boza and I walked to the Fish Farm lake pump (Yes Boza finally got up and decided to join me!) It is a brand new one (pump) this year, I guess they got tired of repairing the old one, with band aids and duct tape…
This pump is powerful and quiet. I use to be able to tell when they started it up and you could hear the hum for miles away. Now it sneaks up on you and you only hear the water splashing from the outlet pipe…
I wonder how much something like that cost?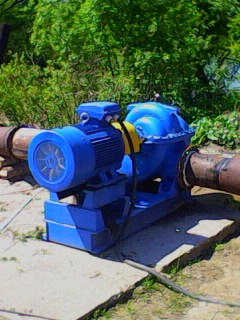 .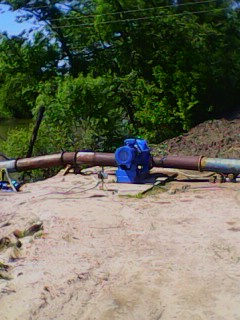 That is always cool to see how well the Fish Farm is doing and with all the new equipment I am seeing, they are doing well indeed…
* * * * * * * * * *
Well it is time to go to town and pick up Boza food. I buy him Pedigree in a pouch, it is his favorite and it comes in many flavors. It seems to suit him well, for he is kinda persnickety, like a cat over food. Human food gives him issues and dry food, well that is for peasant dogs, you know…
The store call "Number 5" has his food, buy three and get one free. Now that is a deal…
* * * * * * * * * *
Hope that your day is good for I know ours will be. Boza is staying home and resting, for I walk him too much as you can tell and I will go join the natives and see what they are up too…
Have a nice day…
Post by Kyle Keeton
Windows to Russia…