This morning I woke up and Boza and I ran outside to walk…
We stepped into an alternate world as we exited the door and found that winter had decided we were bad and snowed all over our parade. It was only -4 this morning, but still, what is the deal with the snow? Oh, who cares?
So Boza and I walked and walked and I took one picture. I did not have the energy to take more pictures of snow and more snow… 😉
Does it look like our car is going anywhere soon?
Though to be fair, it will get warmer this week and stay that way for at least a week. Cross your fingers…
* * * * * * * * * *
Father Pavel made it to the bell tower and his church. I had a long talk with him and to be honest, he is growing on me. I really like him and find him honest and interesting. I am a good judge of character, after interviewing many thousands and thousands of applicants for management positions in America, I have acquired a sense about people…
He is not perfect and some people have some issues with him, but we are all human and that is what makes us interesting. He tries and what he does, says and lives is Orthodox and we could do much worse than follow the Orthodox faith. He tries and that is what counts…
He is in an interesting position in life and he has to act one way around the women who adore him, another way toward the guys who follow his teachings and I see another side of him as he communicates with me and does not have to hold an pretenses or expectations around me. I am an American and he can let his hair down so to say. It makes conversing with him a man to man, instead of man to godliness interaction and I really think he enjoys such times and interchanges…
To be honest, I am studying the Orthodox faith and find it a breath of fresh air. I will see what my future brings and how my faith in God develops. I believe that how we believe in God and how we have expectations of religion is a personal issue and not for anyone to tell me to toe the line. Thus, I may believe what I see, but that is between God and I. For my belief is a personal issue with God…
* * * * * * * * * *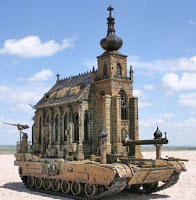 It seems history repeats itself, for I see a Holy War happening in the world right now. This is the same Holy War that has been going on since time began for us and came to a head around 1095. Nothing like a good long war to keep things hopping around the world…
Western driven Holy Wars were called the Crusades, which propagated from around 1095 until about 1291 CE. The purpose was to take the desired by all religious places in the Holy Land from the Muslims and or any others, who lived there, so it was intended as a war(s) to right wrongs done against Christianity? I question my accuracy on this…
Looks a whole bunch like these wars are still going on, at least in enough peoples minds to disturb the flow of life on this planet…
* * * * * * * * * *
I have discovered that I am not able to eat white bread anymore. In fact it seems better to not eat any bread anymore. I seem to have a wheat intolerance and it includes pastas and processed cereals. I have stopped bread and have had tremendous results to the better in bloating, bowel issues and gas issues…
But I love bread… 🙁
Life marches on…
* * * * * * * * * *
The three ring circus the US has for a political system is reaching epic proportions. In fact a three ring circus is not good enough to call it anymore. Looks like US politics and or presidency makes "Ringling Bros. and Barnum & Bailey Circus" look weak and pathetic. They would be proud to have such a circus to utilize to spread among the masses…
* * * * * * * * * *
Gotta go, I am going to read today. Just too much snow and it keeps on falling…
WtR