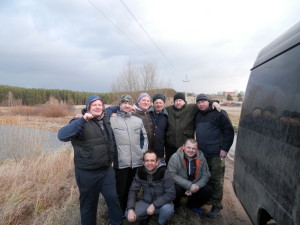 Yesterday allowed me to get a grasp once again on what Russian people are all about. The men who now claim to be my bestes friends on earth and Vova leading the way as my bestes – bestes friend and he made sure they knew that. Are from all walks of life in Russia. Several of them are extremely rich. One has a girl half his age as his wife, one is a starving artist (so he says,) one works in the armament industry, one is a writer, one is a factory worker, one is ex-military, one is from Afghanistan and so on and so on… (Actually two were not in the picture and they refused, too shy, as the others put it!)
I do not get much hate when I meet Russian people and the few that I meet who hate, would be slapped down by the ones who embrace me. I am welcomed and made to feel at home. For Russians are a curious, trusting and loving group by nature…
I feel blessed to have the ability and means to meet such wonderful people everyday of my life and I seriously am blessed for having such a wonderful girl by my side, even if she is in Moscow right now. Russians are still able to understand that temporary separation of the opposite sex from each other is important and guys have to go be guys, even if it kills them; for life to be smooth and stable. Russians believe as we (I) did many years ago and I remember the horror I experienced when I put my daughter in college and the dorms were coed. It was a nightmare and accepted by society as Okay! It is not and is just a small example of how I feel and why I think Russia is on the right path. Girls are girls and boys are boys! Oh My!
A country is no better than the morals, curiosity, love, porosity, abilities and many thousand other things that its people allow and do themselves. A government is an extension of the people and when a government has gone rogue the people have gone wretched and allow it to be the way it is. We are what we sow…
These guys will come back, for hunting is important, even if you kill nothing and for these guys, hunting is the excuse to get away from all the pressures of life; including the wife. 🙂 I have been told that I do not have any choice in the matter, I will go with them hunting next time and that is that. I can be excused from drinking vodka, but from hunting; No Way!
Russia is about the people…
* * * * * * * * * *
I am debating going to the Big Village, but, I do not want to and really there is nothing I need to get. I have tons of food and other supplies. The need and desire is not there, so why go? I will not and Boza and I will walk in the upcoming snow storm.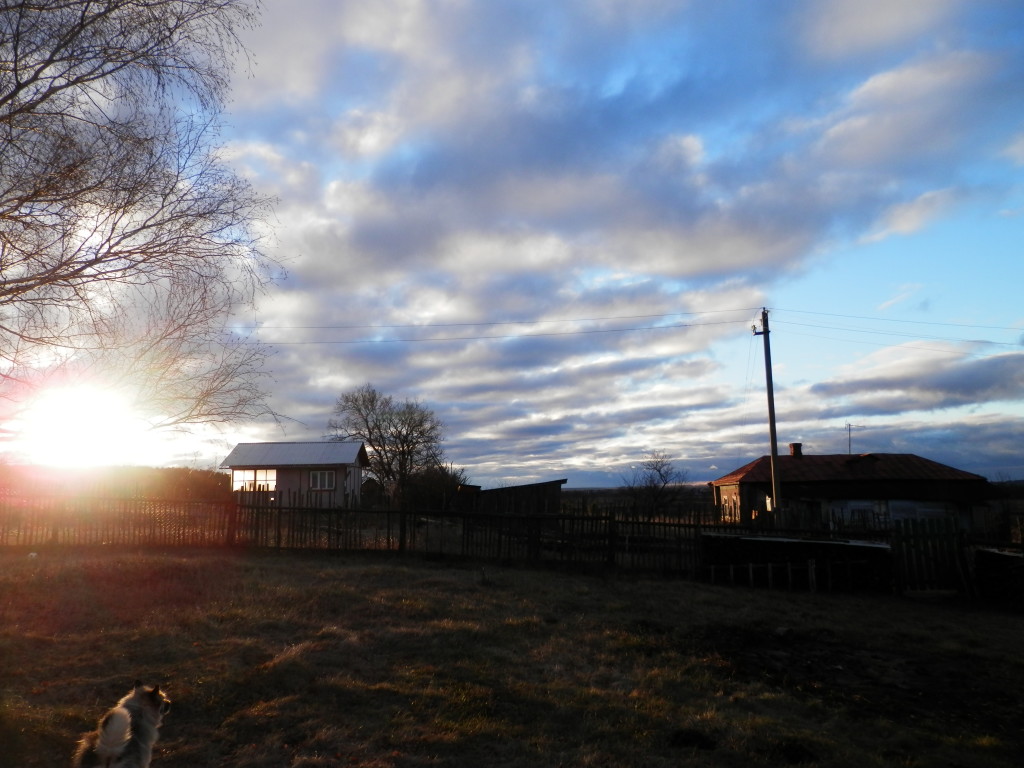 * * * * * * * * * *

This is my new razor for the village. I decided to buy a razor like what I started shaving with many years ago, many more than I care to think about. It shaves like a dream and is simple, but simple for a simple life. I even have a brush and extra blades, all made in Russia…
It is what life is about and what life should be about; what makes you happy…
* * * * * * * * * *
Boza and I found a spring, Sveta had mentioned such a spring for water, if there was no where else to get water. I found it yesterday and it use to be a major source of water for fingerling ponds. The ponds I found the remains of yesterday. So it has been proven to me that our end of the pond system use to be self-sufficient and had its own breeding system and such. Makes sense, and now I know exactly where the fresh water source is to get water if need be. The cement pond is huge, but one end is blown away, thus no water collects anymore. It use to service a series of three smaller ponds and also was used for water for the village at one time. I found the remains of several small pumps and pipework for running water to a water facet. I just love finding history and really wish that history was not always decaying. Oh well…
Have a nice day…
Kyle Keeton
Windows to Russia (WtR)