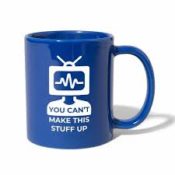 Putin must be a god to be able to be all over the world and interfere with all western countries. If not Putin? Then the Russians are all following his orders? Correct? Well….
Teams of Russian agents have been dispatched to Ireland to map undersea fiber-optic cables, with a view to "cutting communications in time of conflict." A damning indictment that sounds suspiciously like a spy flick. Sitting at the western edge of Europe, Ireland is the landing point for thirteen undersea fiber-optic cables. These cables carry internet traffic from the US to Ireland's west coast, then on to the UK and mainland Europe from the east and south. The world's economy depends on the integrity…
Source: Russian GRU agents prowl undersea internet cables off Irish coast in the Times' latest spy thriller — RT Op-ed
If China is not stealing all secretes from the west? Putin/Russia is cutting the damn fiber optics of the undersea cables to destroy the abilities and or steal the spy information of the saintly western governments!
Bad Russia!
Not even the Onion could make this stuff up…
WtR
Update: It is invasion time for all you Russian Haters…
Russia is poised to invade Ireland and seize control of global communications, according to a crew of Cold War relics and professional Russophobes who've taken an already absurd James Bond-esque story and doubled down on it. Ireland's status as "a vital telecommunications and logistics hub linking North America and Europe" has made it an irresistible prize to "the Putin regime," according to a bizarre paper published on Wednesday by the Center for Security Policy, a right-wing think tank. Russia isn't ju
Source: Russia isn't just mapping Ireland's internet cables – it's planning to INVADE, foams Cold-War-revivalist DC think tank — RT Op-ed
Yes this is really an article…