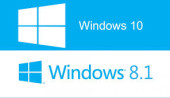 I am so happy with Windows 8.1 and so unhappy with Windows 10. There really is no comparison between the two and livability is the reason that Windows 8.1 is the best. Windows 10 has so many idiosyncrasies that it makes it hard to love unless you simply have plenty of resources to waste and throw away into Microsoft's lap…
But Microsoft continues to "TRY" to put Windows 10 on my computer. Five times I have had to remove and or hide updates and I can not allow updates without my looking them over first. I have installed two programs to watch out over this occurrence and it is getting old, old in the fact that Microsoft is trying to shove something down my throat that I have tried and dislike so much that if they continue, I will switch to Linux and be done with Windows…
First program below in block quote and I run it every time I have Windows updates and this is actually a redundant program, but has helped me to keep Windows 10 at bay…
I Don't Want Windows 10
=================================

This program removes the Get Windows 10 (GWX) update (KB3035583) from an infected Windows 7
or Windows 8.1 system.

How to Run
==========

Click on "I Don't Want Windows 10.exe"

"Side-by-side configuration is incorrect" Error
===============================================

Run "vcredist_x86.exe", located in this folder.

I think I have removed the necessity to use this, but it's there just in case.

REDISTRIBUTING THIS SOFTWARE
============================

You may redistribute an unmodified copy of this software for free to anyone that wants it.
This file, and both the application and the vcredist file must be present, with all their
contents unmodified. The VC++ files are property of Microsoft Corporation and are subject
to their terms of use.
The program above is a non installed exe and you run it manually as needed…
This next program is a watch dog type program and it installs and gyards your system. It works and works good. I use the above program as a feel good situation, simply for my brain to function better… 😉
Version: 1.7.2.0
Date: January 24, 2016
Platform: PC 32/64
* Download Installer *
-or-
* Download Stand-alone *

This is a free tool that can remove and disable the 'Get Windows 10' notification area icon on Windows 7 and Windows 8. Recent versions can also disable 'Upgrade to Windows 10' behavior in the Windows Update control panel and do much more. See the user guide at the Ultimate Outsider blog. You can still download GWX Control Panel as a standalone executable if you don't like installers. Please see the "GWX CONTROL PANEL RELEASE NOTES" section at the user guide for MD5 and SHA-1 checksums of all official releases.
I am giving these links not because I get anything for doing it. I think people need to have ability to stop companies like Microsoft from invading your life if you so desire…
The GWX is the best and just install, read what to do and do it. It also allows you to reverse everything and allow Windows to update…
* * * * * * * * * *
To be honest Windows 10 was smooth and worked good. At least on the surface, but things that mean alot to me were showing up and not least of all; the data usage on a very limited data situation was not controllable. That just makes n sense to me. For I am sorry Microsoft, but not all of us live with a golden spoon in our mouths and we have limitations to what we can spend on things…
I personally thought that Windows 10 is going to be a huge expensive financial mess in the future and I guess my distrust of Microsoft makes me think that we will pay for "Free Windows 10" at one point or another. I won't and that is simple. I will ride Windows 8.1 to the end of its life and beyond…
I am not going to review Windows 10 and or Windows 8.1; I will just say that Windows 8.1 is the best Windows I have ever used and I really liked Windows 7…
Windows 10 just stepped on my toes and tried to upset the apple cart…
I dislike my apple cart upset…
WtR