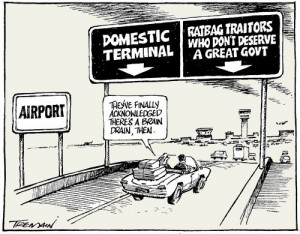 I use to get tons of hate, hate, hate, hate, hate and more hate e-mails. They still come (But very few and file thirteen is their home!), but I have finally stomped them in the bud. But I get tons of e-mails and I now get tons of e-mails that are from people who do not know what to do and are crying out for help in someway or another…
And it just gets WORSE = How much more can the 99% take America to all intents and purposes is now like a third world dictatorship. But with billions $ used by the state to OPPRESS its OWN citizens. You aren't free America – No American can now criticize other countries or "lecture them" on FREEDOM=DEMOCRACY and the ability to speak out against your 1% helping government. How much more can you take???
Or maybe this one…
Dear Windows to Russia!

Please help me to leave the USA! I have become sacred! Seems we have followed the Orwell book 1984! Contact me!

+############ phone

Sam
or this one…
Dear Sir,

I am US citizen and follow my ip and it will show you where I live. I follow your blog and find it refreshing. I have problem that maybe you could help me with.

I try to get passport and they tell me that I can only have a passport card. How did you get a real passport? Could you help me to get a passport? I want to leave US and go to China. Passport card does not work for that. Help me get a passport! ********@gmail.com

Marky
Okay so not that exciting to you? Well they should be, because I get hundreds a week like this! This is what they all look like in some form or another. They all ask for help and information. They all tell how they feel! They all want some advice and want to understand. Many ask to leave America and how to get out from under the control. I get hundreds of them a week and I really do n0t know what to do with them all. They are all from the US and from all over the country. They are from people who are really worried about the state of affairs in America…
I have had some very wealthy people contact me about Russia. They are looking all over the world and deciding where they want to go and relocate to. I have always been bombarded with all the facts trying to point out how Russia is having a brain drain and why do people always leave Russia?
Well they maybe leaving Russia also and you can spend your time pointing fingers as you look the other way, but first you should worry about the brain drain that I am seeing leaving America…
Russia is the least of your worries and only a fool looks at the other side of the fence to ignore his issues and problems…
Every since I have squelched the hate and disgusting comments that belittle people who are sincere about commenting and steered everyone to the e-mail system. It has been a whole bunch better and people can express themselves without fear…
America is experiencing "Brain Drain" and the government does not want you to know about it…
Kyle Keeton
Windows to Russia!