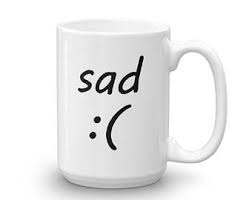 Years of great internet in the village and now they are trying to tell us that this is the best they can do!
MegaFon has changed some policies and coverage. We seem to be in a no mans zone now for them. After more than a few years of wonderful service, they have refused to give a crap if we have internet or not in the Tiny Russian Village…
Kind of makes you sad…
We have 2G, but it is spotty at best. I keep having to restart the internet every minute of so and then it works okay for a few seconds, then dead. Our phones are on Beeline and we have always used MegaFon for internet. Hmm…. Maybe time to look at Beeline?
Therefore, write post on notepad, transfer post to site and try to post this. If you are reading this? I succeeded… And no images today…
Bear sad again, but lots to do, so who needs internet? Not me and I will make this short and sweet…
* * * * *
KIEV (Sputnik) — The former Odessa region's governor and president of Georgia, Mikheil Saakashvili, presented his "Plan to Rescue Ukraine in 70 days", using the building of the Ukrainian parliament, Verkhovna Rada, as a screen, Sputnik correspondent reported from the scene on Saturday.
And I had a hundred emails telling me I was a dumbsh#t for saying Sassy would be the next president of Ukraine…
I talked about this in 2015…. Hey! Ukraine still has a ways to go to hit the bottom of the barrel. It is a deep barrel and the bottom is full of hungry scavengers. They are waiting Ukraine people and will eat your souls, if you let this mess of a country called Ukraine keep going the way it is…
* * * * *
Pyotr Pavlensky the man famous for nailing his balls to the Red Square cobble stones…. He was given asylum in France for being such a idiot in Russia and now he turned on France. France used him as a tool against Russia. Bad Russia and good Pyotr Pavlensky…
Okay! He bad bad bad now…
[contentcards url="http://www.kansascity.com/entertainment/article179064931.html"]
Pavlensky, having received political asylum in France in May 2017, recently set ablaze the building of the Banque de France in Paris….
Hey western world! You want your Pyotr Pavlensky? You got him, he sick man…. He should nail his balls to the Eiffel Tower! Hey Man!
* * * * *
Alibaba founder Jack Ma said the e-commerce giant wants to work with young Russian scientists and engineers, adding that every visit to the country makes him feel more and more confident in Russia. "Yesterday I went to Moscow University, and I had a wonderful time with the young people. I see their anxiety, I see their creativity and the imagination young people from Russia have," he said speaking at the Valdai Club discussion panel in Sochi. The businessman said Russia is becoming more comfortable with the development of science and technology. "We think Alibaba should join forces in developing Russia," Jack Ma said…
He is correct…
* * * * *
Well I have limped along this article as far as I can…
Gotta go and gets lots of stuff done. We have to install a window in the village home and we need to take a trip to town or Big Village as I call it…. Thanks again for donations and yes Sammy and Boza are doing good. Sammy running like a top and Boza is prancing all over. Boza has lots of medicine for his eyes, thanks to everyone who donates for that reason…
WtR