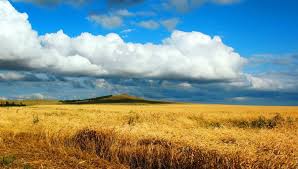 And I do really believe that when Russia says one thing, it is understated as the norm. Russia is becoming the breadbasket of the world. The amount of grain I see being grown in Russia over the last few years, is nothing short of phenomenal…
Russia and the world has issues imposed by the West and these issues self-destruct the Western world itself. The West within its desire to destroy Russia has broken the worlds supply chains and imposed huge difficulties with financial means for buying grain. These impositions are externally deficient and internally deficient upon world food supplies…
The reason the West is doing this is not important for what I am saying right now. The fact is that the west has destroyed the food situation for the world and now it is totally up to the East to resupply the world with a new system and food availability…
Russian Minister for Agriculture Dmitry Patrushev said, "The country's grain harvest could reach 130 million tons this year, which would be enough to cover both domestic needs and ensure export potential."
and…
Patrushev said Russia has to overcome these obstacles in order to provide food to the countries that need it most. "Our [agricultural] products will be on foreign markets, but only in those countries that are friendly to us, that do not create hurdles and difficulties for us,".
We in the East are past the point of caring that the West is on a suicidal mission. I guess when you become mentally unstable as the West is? Then everything is warped and miscollocation is the normality within reality…
Therefore, I can verify that as of right this minute, I have watched an unbelievable farming resurrection within Russia. This year alone every field for a 1000 kilometers around where I am staying in the Tiny Russian Village, has been developed and is growing wheat, sunflowers, soybeans, sweet peas and more. New hog farms being built, new chicken farms and old farms that had gone into decay are springing back up again. I see new roofs on old farm buildings, new structures, new equipment and the air is wafting with multiple crop dusters and tractors run 24 hours a day…
The part of Russia I am seeing has become root based farming again. It is truly an amazing sight to behold. Right now, driving anywhere is to see endless waves of grain being grown. Wheat has become life again. As it should never ever have been let to lax in the first place…
I have hundreds of articles about the farming situation in Russia. yet I believe this link below from 2019 and a quote by Putin, says it all…
I see now that Russia has answered my statement in the post, "I very much hope that Russia realizes how important this milestone is…"
It is what I call, "Getting back to your roots!"…
Nothing destroys a country faster than no food to feed the masses…
And nothing is better than a slice of warm fresh bread with melted real butter soaked into it…
That is what makes a human happy!
WtR