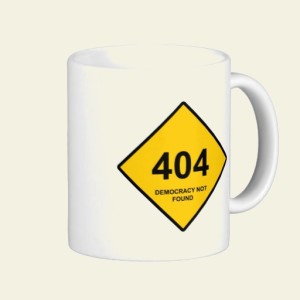 A saying that is thrown around a lot on the internet by democracy pushers is: "It has been said that democracy is the worst form of government except all the others that have been tried." by Sir Winston Churchill…
Now that seems to me, that we are saying: All governments are yuck, but we have the best of the yuckiest!
Kind of like also voting for the best of the two evils, like a typical election in the US is based on. This type of government is not for the people, by the people. It is by the government and for the government…
So does that mean, just because we have the best of the worst that we have a right to ram it down the throats of the world. Just maybe someone sitting on a mountain right now and thinking about life, has a better idea for the world and governments. Maybe I have a better idea and just because that idea does not coincide with the general scheme of what the people in power think it should be, does not mean that my idea or your idea is worse than accepting the best of the worst…
I say, "Having the best government of the worst, is not good enough for all humans! We need the best of the best, for the growth of humanity! If that means less government or different governments all over the world, then so be it…"
It is obvious in this day and age, that all over the world, what we have as governments does not work. It simply does not work to everyone's expectations. I see cases that work in many small countries, of a governmental system that works for them, but then democracy rears its head and destroys the situation. Out of shear spite of not going along with the crowd of power gatherers…
Try these on for size: (We have lots of failures!)
A

Abolished monarchy
Adhocracy
Aesymnetes
Anacyclosis
Androcracy
Anocracy
Aristocracy
Authoritarianism
Autocracy

B

Bankocracy

C

Caliphate
Capitalist republic
Central government
Centralized government
Christian republic
City commission government
Civics
Coconstitutionalism
Collaborative governance
Collective leadership
Collective leadership in the Soviet Union
Commonwealth
Commonwealth (U.S. state)
Communist state
Confederation
Consensus government in Canada
Consociationalism
Constitutional dictatorship
Constitutional monarchy
Constitutional theocracy
Continuismo
Corporate republic
Corporatocracy
Council–manager government
Counterintelligence state
Crowned republic
Cyberocracy

D

Defensive democracy
Democratic republic
Devolution
Diarchy
Dictablanda
Dictatorship
Dual system of government
Duchy

E

Electocracy
Emirate
Ergatocracy
Ethnarch
Ethnic democracy
Ethnocracy

F

Family dictatorship
Federacy
Federal monarchy
Free state (government)

G

Gatekeeper state
Geniocracy
Government
Government by itineration
Government of the Inca Empire
Grand duchy
Guided democracy

H

Hegemony
List of hereditary monarchies
Herrenvolk Democracy
Hierocracy
Holacracy
Hollow state

I

Ideocracy
Inclusive Management
Inverted totalitarianism
Islamic democracy
Islamic state
Isocracy

K

Khanate
Kleptocracy
Kratocracy
Kritarchy

L

Liberal democracy
Logocracy

M

Mafia state
Magocracy
Majlis
Matriarchy
Mayor–council government
Meritocracy
Monarchy
Multi-party system

N

Nanny state
Netocracy
New Republican Society
Night-watchman state
Non-partisan democracy
Noocracy

O

Ochlocracy

P

Panarchy
Pantarchy
Parliament
Parliamentary republic
Parliamentary system
Particracy
Patriarchy
Plantocracy
Plato's five regimes
Plutocracy
Police state
Political institutions of ancient Rome
Political union
Polycracy
Presidential system
Prime ministerial government
Principality
Procedural democracy
Proprietary community
Puppet state

R

Rechtsstaat
Regional state
Republic
Right-wing dictatorship
Rule by decree
Rule of law
Rump state

S

Scientocracy
Sectarian democracy
Self-governance
Semi-authoritarian
Semi-presidential system
Single-party state
Socialist state
Sociocracy
Sole commissioner
Soviet democracy
Soviet republic (system of government)
State government
Stochocracy
Stratocracy
Sultanate
Sultanism
Superstate

T

Technocracy
Tetrarchy
Thalassocracy
Theocracy
Theodemocracy
Timocracy
Totalitarianism
Tribalism
Two-party system

U

Unitary state
Unrechtsstaat

V

Vetocracy
Videocracy

Z

Zemstvo
Does this mean that all these forms of government are failures?
Not in some instances!
Many work for the time, area and life that was available in the country they were used. In fact, two forms of government that democracy lovers despise and hate with venom & vengeance, are communism and dictatorships…
These two worthwhile examples of working and workable governments have their place in the world and because they have been successful to more than a few degrees. They are slandered at an unprecedented pace by democracy lovers. Obvious these two forms of government are a threat to democracy's rule on the planet we call Earth. Why else is so much hate, time and money being used to degrade these two forms of government?
I know countries that need a dictator, I have traveled in these countries and they are better with a strong hand to guide the people. Without strength, they crumble into tribal warfare and chaos..
I know countries that succeed well on communism and if left alone would succeed very well, except for the constant pressured destruction of a capitalist, western and democracy based world. Not everyone wants or desires to be capitalist driven and that is one of the basics of the foundation of democracy. It may have not been in that foundation many years ago, but it is the driving factor of democracy now. Death is the number one driving factor of democracy in this day and age…
Why socialism has its place and we are not to say what is best for any country. For our ideas and our morals and our customs, may not be what is acceptable and desired in another part of the world…
It is simple to me: When we are killing people to spread our government, our feelings, our life style and our morals…
Then we are the worst of the worst governments that there is…
Have a nice day and please do some thinking about the world at hand…
Post by Kyle Keeton
Windows to Russia…