Independent journalist Lizzie Phelan says the reports are an effort by NATO to create panic.
"The only gunfire that we are hearing is celebratory gunfire," she said. "And the only explosions that we are hearing are NATO air strikes or NATO sound bombs, which are clearly designed to create a sense of panic in the capital city of Tripoli."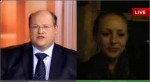 Phelan said that the Libyan rebels created fake footage of themselves in Zawiya and Tripoli, and were aided in disseminating the footage by, among other media outlets, Al Jazeera. The Qatar-based satellite television station, she argued, has been at the center of the media conspiracy against Libya. The Western mainstream media, she continued, in turn picked up these reports and repeated them, creating a sense of panic among the Libyan people.
"Later on in the areas like Soug Jomaa, after the prayers, a number of armed gangs emerged, which are essentially sleeper cells of rebels inside the city, and began firing randomly and threatening ordinary people, that if they did not join them they would be assassinated," she said. "They then took footage of the empty streets, which created the sense that they were in the process of capturing the city."
Many people in Tripoli have been armed by the government and these people came out to defend their capital, she added.
"The government spokesman came out and insisted that the situation had been brought under control," Phelan claimed. "As a result, now in Green Square the masses have come out because they feel safe again and they are letting off celebratory gunfire and fireworks. Muammar Gaddafi spoke to the masses live via phone, because there have been reports that he fled the country."
Political analyst Mahdi Nazemroaya says that the gunfire in the Libyan capital is sporadic and disorganized, and that its main purpose is to break down the morale of the population.
"The main point of the attacks in Tripoli is to break down the morale here and cause panic," he said. "The media here at the hotel where I am staying has been part of this disinformation campaign. They just want to feed the panic here and want the regime to collapse. They are fueling and feeding this psychological war against this country."
This is all from someone on the ground in Libya…
Source: http://rt.com/news/rebels-attack-tripoli-misinformation-795/
Windows to Russia!
Update: