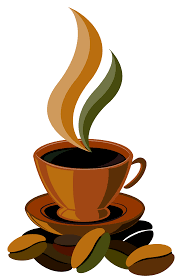 Here in most of the civilized world, it does seem to me that includes even North Korea at this point, America looks like a 3rd world loony bin and is on the verge of psychotic indulgences of extremes…. From screaming pussies, shouting racists haters, pouting gay lovers, the I like to hate anything type individual and proven paid for thugs. We have shown the world that we are the leaders in total chaotic psychotic chaos…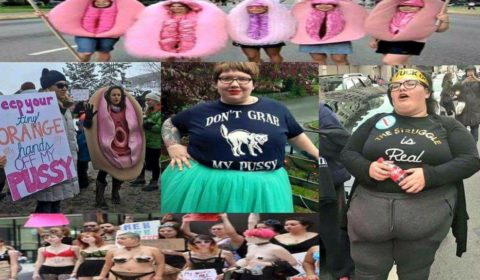 We are now the laughing stock of the world. Why even Britain is posting the antipathetic wiles crawling the streets of America. Are you happy about the image that we are presenting? Maybe you think it all does not matter? Why are we letting the likes of Soros and company run amok? Why do we allow McCain and company to be reelected and run all over the world and snuggle with terrorists? You need to ask yourself and ten people today; Why?
Is America happy that now the women of America are represented in the world news, by a walking vagina image?
I will say this, "I am loving watching hardcore liberal and neocon heads explode. This is great! This is the greatest soap opera on earth! USA… I have got to say, "Trump is stirring the pot!" "Good or Bad?" Could not be any worse than the path we were on to self-destruction…"
What I do not like is seeing the sheep out bleating over trivial issues. America needs to look in the mirror and start fixing what they see there…
Americans use to be by nature a conservative people.
Russians are very much by nature a conservative people. I just hope the American president and the Russian president can gather an understanding. I think we are sunk in the understanding department. For even as you read this, we Americans are allowing China to be egged on into war along side with Russia. Do we want Russia and China against us?
We Americans have learned nothing over the years…
And in fact, we seem to have regressed considerably as time has gone by. The swinging of the pendulum of chaos's force is strong in the US. We need to garner some middle ground or will will self destruct…
Time for another strong cup of coffee…
Well it is going to get damn cold in the Tiny Russian Village. The wind has changed and from the north is blows…
Snow is still falling and that makes walking Boza hard to do, but do it we do…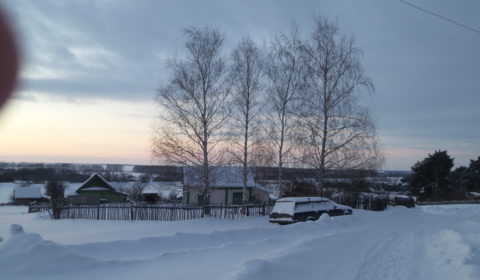 Since this image was taken by Svetochka, it has snowed another 6 inches and still coming down. Now we get drifts from the wind change and that makes for issues and more issues…. But since I love it! No complaints from me…
That is something that I am glad I am good at. I have had to stand alone most of my life and being alone is a simple thing to deal with. Sometimes, I have to make myself focus on the fact that I am not alone anymore. Svetochka is always with me in heart and mind, even when she is in Moscow and I am in the Tiny Russian Village…
True Freedom: "Freedom of being alone is intoxicating. – Kangana Ranaut"
But being with that special someone is: "It's so great to find that one special person you want to annoy for the rest of your life. – Rita Rudner"
Now that is someone special and her and I have found that person… 😉
WtR