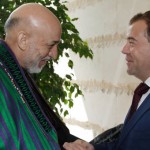 I found this interesting and see a deeper meaning in this situation. I have watched the situation on this side of the world and find it strange that America seems to ignore important issues and exasperate mundane issues. It seems to me that Medvedev has made huge head way into a relationship with Afghanistan…
President Dmitry Medvedev is hosting a summit on terrorism and drug trafficking in Russia's city of Sochi with the leaders of Afghanistan, Tajikistan and Pakistan.

It is the second four-nation meeting of its kind. The first one was held in Tajikistan's capital of Dushanbe last year. Back then leaders focused on cross border projects, security issues and economic recovery of the region.
This is one of those issues that America seems to be allowed to escape proper management of importance…
I have been watching a Russia increase her influence in Afghanistan over the last few years. This has been a one step at a time and being done on the governmental level…
I see a Hamid Karzai who is getting his ducks in order for when America walks away from the mess they created. Just like we are doing in Iraq…
Hamid has made a few interesting statements over the last few months and his thinking is starting to show. I really do not think he is as much of a puppet as we first thought and he definitely is not as dumb as the Western press tried to portray him as…
Just a few thoughts that have crossed my mind several times over the last few months…
Windows to Russia!