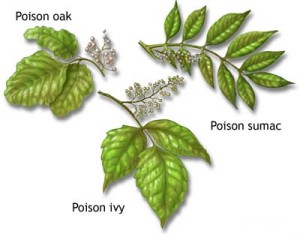 Poison Ivy that is something that I grew up with and dealt with many times in my life in America. I even had to steer Sveta away from the plant in America when she came and visited many years ago. She had never heard of it and was wanting to check out a healthy dark green vine of the dreaded plant of itching…
As Sveta and I walk around Russia, be it in Moscow or in the village or on one of our trips, I am always on the lookout for that plant. It is engrained in me as while I do not get it. I have had family members that have been hospitalized with sever cases of Poison Ivy. One case came from a wood fire that had Poison Ivy tossed on it to burn and the fumes got in their lungs…
Poison Ivy, Poison Oak and Poison Sumac:
I have looked and do not find Poison Ivy, Poison Oak and nor Poison Sumac. I had all three when I lived in Missouri and getting rid of it was like try to get rid of fleas and ticks on your dog. If you live in the country it is a fact of life and you learn to deal with it, by avoidance…
So I have been trying to find if there is such a plant in Russia and as far as I can tell – NO!
Sveta has never seen it nor heard of it and had no idea what it looked like in America. That means that they do not have it and if they do, it is very minor and maybe down south Russia. It is the same thing as asking a Russian, "Do you know what a skunk is?"
Post by Kyle Keeton
Windows to Russia…
The copy scores 79.4 in the Flesch Reading Ease test, which is considered easy to read…