The weather changes and Boza has real issues with his eyes. I have watched closely and noticed that the weather really effects his eye pressure. Maybe because it is so borderline anyway that it affects more?
Really bad night. But Boza is sleeping soundly this morning and for that I am thankful…. Sometimes you have to grab life by the coat tails and hang on. Hoping to be pulled along for another day and that that day will be better than the one you just exited…
Rain has started at 5 a.m. and will be the kind of rain that is steady and good for the plants. That I am thankful for also…
# # # # #
Therefore, I made a cup of coffee and sit here listening to the rain drops pitter patter upon the leaves of the plants in the yard. A breeze is blowing, the rain is falling and I am alive still…. What more to ask for?
# # # # #
My blood sugar was bottomed out for most of the night. Nothing I could do would bring it up and I am not hungry enough, to eat enough to change it much. A few pieces of candy, some cottage cheese and I struggled through the night. Along with a Boza who had excessive eye pressure…
Therefore, I am moving slow this morning and will wait a few hours extra to take my sugar pills. I will take my heart pills, but today my diabetes pills have to be watched and I will check my blood sugar a bunch…. I took it three times during the night…
# # # # #
I am under the understanding that Sammy the Volga is painted, but now it has to be completely put back together. Still will take time and it looks like Svetochka will come on this Monday coming up. Then she will stay the whole week and sometimes during next week we will leave to Moscow…
Like I say, "Life is interesting!"
# # # # #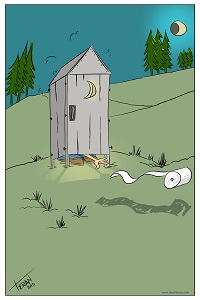 Going to go…
The chaos from America is too much to deal with. It is nice to be able to simply look around in my world and see life as reality, not a MSM driven agenda. An agenda driven by greed and hate for all good in the world…
I wish Americans would wake up and get their heads out of their virtual world of hate and propaganda…
Go use an outhouse for a day! That will set priorities correctly and make you understand that life is nothing but a tech dream…. I sat in ours this morning doing bear business and listen to the rain hit the roof, a roof that I put on it and realized how nice it sounded…
Simple pleasures are easy to see and find, but you must open your eyes first to the possibilities around you…
WtR