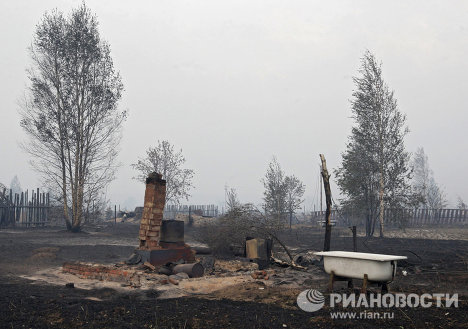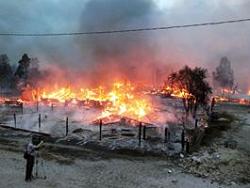 Over 2,000 soldiers and about 50 vehicles from the Moscow Military District are involved in fire-firing efforts in central Russian regions, a spokesman for the Moscow Military District command told reporters on Friday.
A special group maintains 24-hour contact with the Emergency Situations Ministry and regional administrations, the spokesman said.
Swift measures are being taken to put out forest fires that might threaten military bases, he said. More than 200 pockets of fire have been registered in the Moscow Military District's zone of responsibility on Friday.
The Nizhny Novgorod, Voronezh, Vladimir and Moscow region are the worst hit.
This from (Itar-Tass) — Forest fires resulting from record-high and long heatwave and drought quickly spread in central Russia because of strong wind on Thursday and destroyed nearly 500 wooden houses forcing rescuers to launch mass evacuation of people.
The emergency department of Nizhni Novgorod region said fires swept away the village of Upper Vereya in less than an hour destroying all the 341 wooden buildings. All the 580 residents of Upper Vereya were evacuated.
"There are no victims and all the people have been accommodated in two school buildings in the town of Vyksha," a spokesman of the emergency service said.
Houses were also on fire in the village of Tamboles with 308 residents and 205 buildings. Evacuation is underway.
Twelve out of 34 houses were also on fire in the village of Borkovka and residents were evacuated.
The emergency service said additional firefighting teams from neighboring regions have been dispatched.
In Voronezh region raging fires killed a fireman raising the death toll to two, spokeswoman of the Russian Emergency ministry Irina Andiranova said.
Authorities had to bloc traffic on a 100-kilometer section of the Don highway in Voronezh region as surrounding forests were on fire and the smoke reduced visibility to 50 meters.
Fires have surrounded Voronezh outskirts from the north, west and south. Rescuers evacuated over 600 children from summer camps and patients of a hospital. Twenty wooden residential houses were burnt down.
Local emergency service said over 600 hectares of forests were on fire in the past week and close to 50 houses were destroyed.
In Volgograd region forest fires rage on a territory of 200 hectares, however the threat to four residential settlements with 500 residents was eliminated, local emergency service spokeswoman Yelena Rodionova said.
Strong wind aggravated the situation with peat fires in three eastern/southeast districts around Moscow – Yegoryevsk, Kolomna and Shatura, Viktor Klimkin, deputy chief of the Russian Emergency Situations Ministry's Moscow branch said on Thursday night.
"Because of the wind these blazes are moving to the category of crown fires from ground fires," he said.
Klimkin said the fires do not pose an immediate threat for Moscow.
In the meantime, the Russian Railways Company (RZD) warned raging forest fires may bloc rail traffic to the southeast.
RZD said it may find it necessary to introduce changes in the schedules "to ensure the security of traffic and safety of passengers."
Russian Video: Heat and Smoke Disaster in Moscow!
Windows to Russia!
15 dead as forest fires rage south, east of Moscow (seattletimes.nwsource.com)
Russian forest fires spread, at least 7 dead (seattletimes.nwsource.com)
Five killed as wildfires sweep central Russia (reuters.com)
Raging Russian fires destroy homes, people flee (sfgate.com)
Medvedev wants army help to tackle wildfires (cnn.com)
Moscow sweats as second heat record set (msnbc.msn.com)
Fires from heatwave scorch Russia (bbc.co.uk)
Homes destroyed by Russian wildfire (channel4.com)
Moscow shrouded in polluting smog as city swelters in record heat wave (foxnews.com)
Russia's "Cold Pole" Getting Heated Up… (windowstorussia.com)