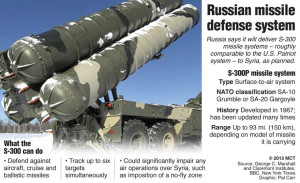 S-300 Missile System: Syria's President Bashar al-Assad has made it clear to AL-Manar TV Lebanon that Syria has received the first batch of Russia-made long-range surface-to-air missiles. It seems that they were received about the time that Israel's Prime Minister (Benjamin Netanyahu) paid a visit to Russia to speak to Putin about those same missiles…
From what I understand through the grapevine in Russia is that Putin made it clear that Israels sneaky attacks into Syria were unacceptable. Little known is that Netanyahu was called to Russia by Putin and Netanyahu did not waste anytime getting to Russia. The game changers have been put in place by Putin, such as warships near Israel and doubling the fleet in Syria. The S-300 Missile System is to ensure that the west plays fair and this missile system is shipped in a cargo box that is common all over the world…
See this link: Interesting Russian Weapon I Found: Club-K the cargo ship defense…
S-300 Missile System, is it a game changer? We will see…
I might add that the next shipment of advanced S-300 missile system is on its way as we read this, according to local news?
Russian news has said, "This news is as a wake up call for Russia's global partners, but underscored how Moscow was not going to revise its stance." As such, the news that the EU is lifting the offensive weapons ban on Syria definitely allows Russia to do as she pleases and arm the Syrian government to the teeth…
And I was resoundingly attacked over the fact that I said, "Syria is a Proxy War between the east and west!"
So did the S-300 Missile System get delivered? We may never know, but really we need to hope that we never know…
Remember: Russia Plays Chess and the West Plays Checkers…
Post by Kyle Keeton
Windows to Russia…
The copy scores 65.6 in the Flesch Reading Ease test, which is considered OK to read.