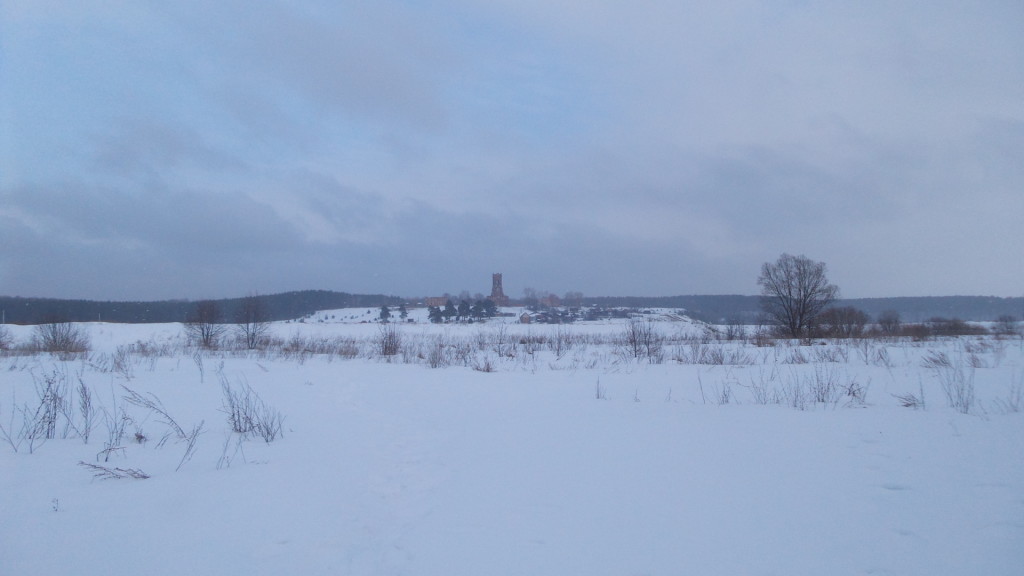 Svetochka found a Tiny Russian Village in a deep freeze and at first I think she was kinda stunned at how winter has not let go of our village. Then she warmed up to the place and now smiles, big smiles as she realizes how wonderful a frozen tiny Russian village can be. Her and Boza go on long walks and they come back all excited and she has images that she is taking of the whole area. I am getting a break from walking Boza and that is good. For I have no option – rain, sleet, sickness or shine. Boza needs to walk. It is a vacation for me… 😉
Boza adores Svetochka and loves to walk anywhere with her. They seem to be very much at the same mentality level, when it comes to exploring. Neither one leads, they just wander aimlessly, meandering among the trees, homes and valleys of our village area. They are two peas in a pod; I call Sveta a "Sweet Pea" and Boza a "Pee Pot," it really fits then to a tee…
* * * * * * * * * *
My blood sugar levels are now running 5.2 to 5.5 at fasting consistently and 7.0 to 8.0 after eating. That means I am winning the battle of the sugar issues. Sveta is seeing it first hand and she is stunned. She knows that I have been 15 and above consistently in the past. This is a new quality of life for me and while I have to watch it still, for the rest of my life, I am feeling better…
My blood pressure is getting low and I am trying to adjust. Sometimes I get dizzy as I stand up. But when your blood pressure readings can be all over the place at the drop of a hat, then it makes it hard…
The thinner I get, the better my conditions. I am definable a poster child for having to much fat and what it will do to your body. Weigh too much and you have blood pressure and sugar issues. Weight is simply inactivity and what you put in your mouth… Just a fact…
Easy Peasy to solve, but mentally a real bummer in life for some people, including me at times…
* * * * * * * * * *
Tomorrow Svetochka and I want to go to the Big Village. We are going to walk to the bus stop 2 to 3 kilometers away and take a bus into the Big Village. Then shop at the stores, turn around take a bus back and walk through the demon snow drifts back home. All while carrying too heavy bags of food and such. I will take the sled and hide it near the bus stop. I will drag our stuff that way. Life has a way…
* * * * * * * * * *
When you live in the U.S. you have an issue that keeps you from seeing the pervasiveness of the government, because it is in your face and all around you, that is all you know…
Then if you move away and get away from that source of propaganda, you realize that you have never seen the forest, because you only looked at the trees…
A normal not filthy rich person from the U.S. is virtually not able open a checking account in the rest of the world anymore. No one wants that American to open an account in their bank! Why? Because the hell involved to allow an American to open an account is not worth it. If they allow you to open an account, they will have enough paper work to buy a house available to cover their asses. This is how bad it has become as America shoves their nose into the whole worlds business. That is wrong…
Did you know that if you are an USA citizen and get married to someone in another country, that the income that person makes in their own country is taxed by your country; The Good Ole USA? Did you know that?
Seriously think about the fact that one day you will be caught by the IRS (I have been audited a dozen times in my life! Never came to anything, but stress and loss of work time!) and they will try to gather all the income tax they can from your spouse, who lives in 10-buck-too and also try to collect from back to when they first started working as an adult in their country and they where not married to you. Did you garner the words, "THEIR" and "NOT MARRIED" ?
Since the IRS is used as a control factor in the USA and they go after people that irritated them (them as in governmental demons,) The IRS is a pit bull that will get you if they think that they can get some extra money out of you and your loved ones. Even if those loved ones are not American by birth, or has ever lived there, and or has ever even been there…
Think about that for  second and wonder what is wrong with America. From what I understand, there is only one other country that has tax laws like America does for overseas expats. I used a western link to point out my point being made below. So talk to the hand, if you do not like a western link from the media proving my point…
Only two nations in the world tax their citizens who live abroad. One of them is a small and vicious African dictatorship. The other is the world's most powerful democracy.

Does the U.S. really want to share this distinction with Eritrea?
I have to tell you that it is the things like this about the USA that makes it one of the most unfree countries in the world. Scoff all you want, but superficial local internal freedoms are not the same as freedoms of your movements around the rest of the world. When we stifle our peoples dealings and abilities all over the world, then we have become the number one dictatorship of the world and capitalism seems to be a glorified dictatorship of the upper class of people, running the country…
Besides do we enjoy being a Eritrea wannabe?
You want to open a bank account in many countries? Good luck Mr., Miss or Mrs. American, they do not want your money!' and that is simply wrong on all levels…
* * * * * * * * * *
Have a nice day and I am going to be quiet now. Sveta is sleeping and Boza is next to her snoozing away. They are both storing up energy to go walk in the forests of life…
WtR