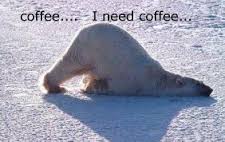 Boza and I got up at 4 a.m. and after about a half an hour and a cup of coffee, we walked to the bell tower and Boza did his thing. He likes doing doggy functions at the bell tower. Then we walked home and watered the garden. Ten buckets later, everything was watered…
I use rain water to water the plants. I have 200 + liters in big barrels and today, since it will rain in the next few days, I drew out a bunch, to water stuff. I try to rotate the water when rain is coming, I have a well to get water from, but I prefer rain water from storage…
I checked my blood sugar when I got up and it was right dead on 5 mmol/L. That is a great start for the day and means I ate right at dinner. I am taking my pills while I write this article and hope I can continue the same pattern all day. It is hard at times to eat correct and eat at the proper times. I stay so busy that I will forget to eat and then my blood sugar drops to the low side. I have lost more weight and that was the plan. I still am trying to ultimately get to 200 or so pounds. About 20 to 30 pounds to go…
It is harder to do, since my walks have been shortened. Boza is not ready to walk two or three hours and most likely will not be for a month yet…
* * * * * * * * * *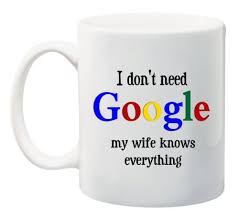 I use to think my Grandpa Wayne had a sweet tooth! He would every once in awhile grab a butterscotch candy. He was Type 1 diabetes and at that time in my youth. I did not understand such issues. He loved butterscotch candy. I do also, but can not find such candy in Russia. I use caramels as my source of fast sugar…
I keep a bag of them in stock and when I feel the sugar blues coming from dropping below 5 mmol/L, I grab a candy, sit for a few minutes and then check myself and usually eat. Ninety nine percent of the time, when I drop below 6 mmol/L, I know it within a few minutes. I am here to tell you that if you listen to your body, it will talk to you. I have learned to listen, now I am stubborn and do not always do something about it, but my body tells me what I should do…
Svetochka gets after me for working too hard and she is correct. I work and then forget to listen to myself. Did I just say that Svetochka is correct? Oh my!
* * * * * * * * * *
Today I have to mow some more. Yesterday, I mowed all morning and got less than half of the yard done. Our yard is much bigger than it looks and it takes time to get around all the plants and stuff that do not need to be mowed. Our brush cutter does a great job and like our chainsaw, it is Russian made. I have found that Russian made items are some of the best I have ever used. I have used some of the best tools and that says a lot for Russian tools. I had to replace a tool set that was stolen in Moscow and I chose a Russian made set. After working on the car this last few days. I have to say, they are some of the highest quality tools I have ever used. They remind me of the old Craftsman warrantied for life tools. There was a time I used Craftsman and nothing else. I know I will be back to continue the same line of tools as needed from now on in Russia…
* * * * * * * * * *
The pain in the butt coo coo birds are everywhere. I am sitting here listening to one just coo coo like nuts. I love them, but I know that they are a brood parasite, but I love their sound. The birds here are pretty smart in most cases. I see eggs of the coo coo smashed to the ground, but, some birds do not care and thus the coo coo population grows. I watched a bird push an egg out of a nest. I looked it over and found the egg they pushed out was huge, compared to their eggs. That was a smart bird and saved her own kids. For soon the coo coo baby will kill the rest and eat just as much food as the rest would have. I feel sorry for tiny birds and the way nature works at times…
Coo Coo's are the most chased away bird, even over the raven and or crow…
"Coo Coo", says the smart but stupid coo coo bird…
* * * * * * * * * *
Poor George our Shrike! His girl decided to find a doctor or lawyer or something. I guess George is too small village for her and he is alone. Maybe it is his parents who own the yard he lives in, but whatever, he is alone and still looking for a hot babe to nest with. It seems our yard is a yard of bachelors for the most part. We do have three or four nests of various birds, but George, who is one of the gang, is without a girl….I am lucky, my girl comes to say high once in awhile… 😉
Next year George, for now enjoy your freedom. Boza says, "Yes George, you can run with me and stay away from girls! They are just trouble…"
* * * * * * * * * *
Speaking of George; he had a snake  and beat its head into the top of a fence post until it was dead. Now that is what a Shrike is good for and he keeps snakes, mice and other big creatures out of our yard. Now if I could just get him to dig up moles? Hmm! Hey George, come here!
* * * * * * * * * *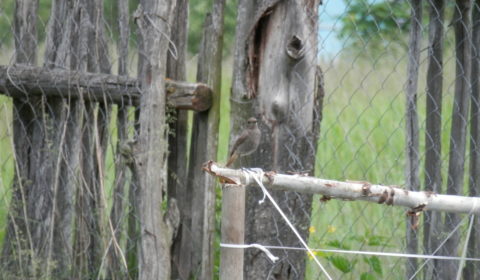 We have a new bird and I can not tell what it is. It has a nest in our yard and looks like babies are here and they are running constantly feeding them. Being a bird is hard work…
Not sure what this bird is, but it is a happy bird and makes a weird hissing crackling noise amongst its beautiful singing…
* * * * * * * * * *
Well need to go! That is enough for today and if I sit here any longer, I will get nothing done. Need to mow. I can hear Svetochka…
Sveta would say, "Slow down and relax, it will still be there tomorrow!"
Sveta is always right… 😉
WtR