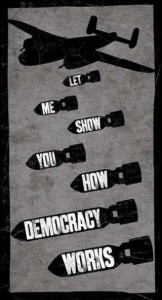 S novym godom; They are still shooting fireworks for the New Year, crazy ass Russians. They have this week off and they are going to use it to party hardy. It is why I love Russia, the Russians are the most wonderful people…
This year, Russians are saying about the New Year, "Happiness and peace from above!"
Means to the warmonger western world, "Be happy this New year, but hope that no one bombs us from the sky…"
Guess who the "no one" is? First two guesses do not count…
Yes that is correct, "Bombs of the False Democracy!"
Sad…
* * * * * * * * * *
A touch of horror-struck this morning as I sipped that cup of coffee. A huge "What If?" jumped in my face…
Democracy 101: What If; America had been the only country to have nuclear weapons?
That statement and or question, should send shivers down your spine. Just think about the implications of a country as out of control as America is and then think about; no deterrence against using, "The Bomb…"
I promise you that instead of sanctions against 30 plus countries in the world. We would be nuking them into submission. The only thing that stops the American people from doing this, is that someone can strike back and even one big fat nuke hitting a huge city is a huge deterrent to nuking others…
America, U.S., USA, Murica, Merica, Amerika, and or what ever you desire to call it. I say, "Just do not call it for dinner!", because you will be sorry, for they will shove democracy down your throat…
* * * * * * * * * *
Democracy; a falsehood…
The tried and true way of thinking is that majority rule government is the best type of government. As the colonialist rabble-rouser Winston Churchill, put it, "It has been said that democracy is the worst form of government except for all the others that have been tried." But such standard way of thinking drops naturally. Nobody has ever offered any confirmation in backing of such a statement. Actually, nobody even realizes what such proof could be. No settled criteria exist for the near descriptive words most noticeably bad, more terrible, awful, great, better, and best when connected to governments…
First lesson of democracy; They will kill you to promote their agenda!
Posted by Kyle Keeton
Windows to Russia…
The copy scores 69 in the Flesch Reading Ease test, which is considered OK to read…