Archive for November, 2008
28th November, 2008 by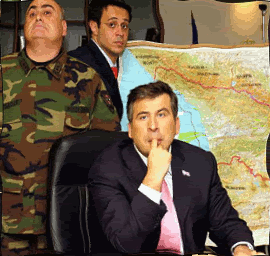 Hello,

Looks like the Kremlin has cranked the pressure up on Mikheil Saakashvili. I would say his days are numbered….
To start with as the last few weeks have unfolded, the word coming from NATO is that it is thumbs down on Saakashvili. This news report confirms that information….
MOSCOW, November 27 (RIA Novosti) – The United States is planning to replace Georgian President Mikheil Saakashvili with former parliamentary speaker Nino Burdzhanadze, Russia's NATO envoy said on Friday. "Georgia's friends at NATO are deeply disappointed with Saakashvili," Dmitry Rogozin said in an interview with Russia's Vesti news channel, "Another leader for Georgia is being prepared. Most likely it will be Nino Burdzhanadze." (Link)
Last week I wrote an article about Saakashvili and his replacment (Nino Burdzhanadze)……
The rumor of blessings from the West is former parliamentary Speaker Nino Burjanadze visited Europe and the U.S. and that the West sent her a clear message: "Georgia is located in the zone of the West's energy interest, and it cannot allow the country to be governed by a leader who may jeopardize the region's security." (Link)
So today the news is hot on Saakashvili and the prospect of his escaping the country……
TBILISI, November 28 (RIA Novosti) – A senior Georgian opposition party figure said on Friday that President Mikheil Saakashvili and his immediate circle were preparing to flee the country, and had already started transferring money into foreign banks. "Saakashvili and his government have already packed their suitcases in the hope that they will be able to live abroad calmly and without any worries on the property they stole here," Georgy Gugava, one of the Labor Party's leaders, told journalists. (Link)
Get ready because who knows what is really going to happen. I do know that Poland is in a uproar over Saakashvili and his theatrics in Georgia. The Polish Secrete Service has already slammed the incident in Georgia as staged. (Link)
Crying Wolf has happened to many times by Saakashvili and now he is meeting the real wolf….


Kyle & Svet
comments always welcome.
28th November, 2008 by
Hello,
While drinking my morning cup of coffee I was thinking about the news that I read last night before going to bed. Sometimes things come across the airwaves that make you stop and say Huh!
I had found a news article that at first I thought was a joke. But then I realized that Russia news has been hinting at this outcome for about a week.
US Secretary of State Condoleezza Rice conceded to European demands Wednesday by indicating she would not press for granting NATO membership to Georgia and Ukraine at the alliance's ministerial meeting in Brussels next week.

"Georgia and Ukraine are not ready for membership. That is very clear," Rice told a press conference.

"There does not need at this point in time to be any discussion" of the alliance membership action plan (MAP), she added.

The top US diplomat insisted the move did not signal a policy shift. "It really is just a question of how we would execute the Bucharest decision. It is not a change in policy," she said.

But this declaration represented a concession to European demands, as Washington had previously pushed for the two Eastern European nations to join the MAP, which provides de-facto membership to the North Atlantic Treaty Organization (NATO).

Amid opposition from Russia, Germany and France, the United States has cooled its support for a formal path to help Georgia and Ukraine join NATO. (Link)
Condoleezza has been hot and furious on the phone looki
ng to seal of the deal with NATO over Georgia and Ukraine. Condoleezza has worked over time trying to sneak then in with out a MAP (membership action plan) but old NATO is smart and has held their ground.
Medvedev is happy right now,
I bet Condi is grouchy right now!
Things that make you go Hummmm……
Kyle & Svet
comments always welcome.
27th November, 2008 by
Hello,

One of our readers named MattMacL brought my attention to an interesting subject in Russia that is happening at a time when anti Stalin sentiments are running rather high in the old Soviet areas.
An interview of Father Yevstafiy can be found at the Georgia Daily by Paul Goble of Window on Eurasia. (Link)
His superiors in the Russian Orthodox Church denounced this action as "inappropriate." And story after story on Russian television (www.islamnews.ru/video-view-184.html), the print media (www.newizv.ru/news/2008-11-26/102216/) and the Russian blogosphere (www.mk.ru/blogs/MK/2008/11/27/society/383332/) played up the debate.

In comments to "Novyye izvestiya," Father Yevstafiy stood his ground. "The feeling that Stalin is the father of the peoples, that he is thus in part my high father has never left me in the course of my life. I thus have two fathers, besides the Heavenly Father: one is my father in the flesh and the other is the father of the peoples who was strict" and may "have made mistakes."

Any attacks on him are wrong and inappropriate the dissident priest continued, and he said that he "remembers Iosif Vissarionovich in all services where this is appropriate, especially on those days when he died, was born and when he celebrated the common Victory of our people." And he insisted that Stalin was "a believer."

But at the same time, Yevstafiy was careful to specify that "this is not an icon glorifying Stalin. This is an image of. Matrona of Moscow. And Iosif Vissarionovich is one of those people whom she blessed. She blessed many people," the priest said, including "a well-known architect and a well- known composer of those times. And Stalin too."
Now we are not really here to debate the good and or bad about Stalin. I am finding out that this is getting to be a heated argument around this part of the world.
I have no right to say much myself because American history painted a whitewashed picture of the Soviet Union during the WWII times, America needed the help of the Soviet Union and slam dunking Stalin was not the way to get help. The history books held a mild opinion of him for many years. Even with a minor in History the class that I took in collage on WWII hardly touched the subject of Stalin.
My wife has said nothing about her feelings of the Stalin era nor about her Mothers feelings of that era.
So if anyone has more information then please present it!
Kyle & Svet